[Updated] The Bermuda U/16 and U/14 National Academy teams returned to the island last night [Apr 15], after a very successful outing at the Open Cup Tournament in Decatur, Alabama which saw the U/16 team win their division.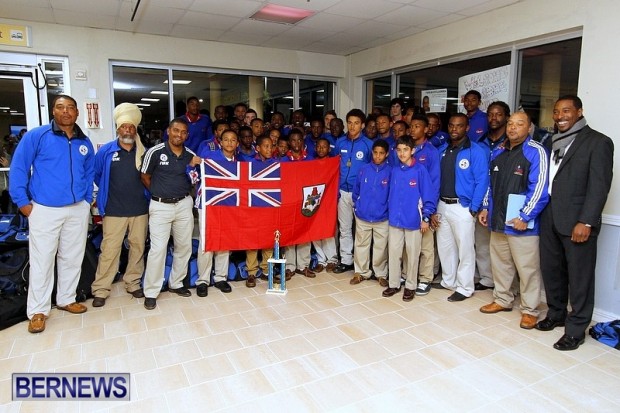 The Bermuda Under 16 National Academy team defeated Evansville Soccer Club 3 – 0 in their last game. Liam Evans scored to put Bermuda ahead 1-0 with 10 mins left in the first half.
The second half Bermuda doubled their leads with a goal from Tevahn Tyrrell and then with 10 minutes remaining Bermuda went up 3-0 with a quick break from a defensive corner.
Jaz Ratteray Smith broke down the left with Jahtino Richardson in the middle in a 2 on 1. Ratteray drew the defender and played a ball through the middle for Richardson to finish.
The Bermuda Under 14 team also won their last match against GSA from Atlanta 1-0. A corner kick in the last minute of the game was scored by Jahzardae Samuels.
Click photos to enlarge:
Update Apr 16: Shadow Minister for Sports Michael Weeks today extended congratulations to the Under 16 and Under 14 National Teams for their victories at The Open Cup in Decateur, Alabama.
Mr Weeks said, "Our young men represented their families and Bermuda impeccably in The Open Cup. In the face of international competition and away from the support of a home crowd, these fine young Bermudians showed everyone their character, strength and will to succeed."
Mr. Weeks added, "We commend the players, National coach Andrew Bascome, Academy coaches Phillip Burgess, Don Vickers and Karl Roberts as well as Delegation Head Maceo Dill for this achievement."
Read More About