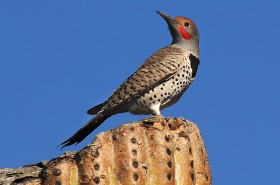 The story of a long-extinct Bermuda woodpecker which may have survived until the colonial era is highlighted in the current issue of a major US scientific journal.
The March, 2013 edition of "Proceedings of the Biological Society of Washington" includes an account of the Bermuda Flicker — or Colaptes oceanicus — by the Smithsonian Institution's Storrs Olson, one of the world's foremost avian paleontologists.
Somewhat smaller than their closest North American relatives [one is pictured here], fossils of a woodpecker species unique to Bermuda have been discovered in late Pleistocene and Holocene deposits unearthed by Dr. Olson, local ornithologist Dr. David Wingate and others in the Admirals Cave, the Wilkinson Quarry and in the Walsingham Sink Cave in Hamilton Parish in 1981.
There is also one bone which is from a Holocene layer in the Spittal Pond area.
A report by Captain John Smith from 1623 suggests this species might have persisted until the early settlement of Bermuda.
The English explorer and adventurer wrote in his "Generall Historie of Virginia, New-England, and the Summer Isles": "Neither hath the Aire for her part been wanting with due supplies of many sorts of Fowles . . . . numbers of small birds like Sparrowes and Robins, which haue lately beene destroyed by the wilde Cats, Wood-pickars, very many Crowes …"
Scientists believe the Bermuda Flicker would probably have excavated nest holes in the resident palm trees and in rotten limbs and stumps of hardwoods.
Such excavations would have been crucial for the evolution of the island' small owl and probably provided shelter for other Bermuda organisms as well.
Read More About
Category: All, Environment