This juvenile Hawksbill turtle was brought to the Bermuda Aquarium, Museum & Zoo [BAMZ] recently in an unresponsive state after it ingested coral polyps which contain polytoxin and can cause poisoning if consumed in high doses.
The turtle had ingested so much that it had a heart rate of only six beats per minute.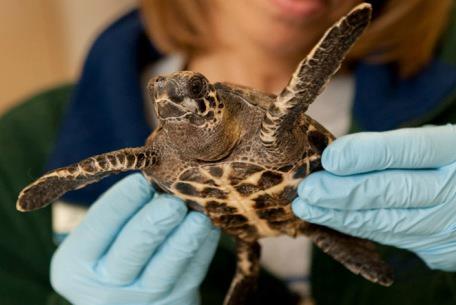 "After some rest and relaxation at BAMZ and a lot of care from Roma Hayward, BAMZ's manager of animal care and quarantine, the turtle recovered and was released back into the water," the Bermuda Zoological Society said on social media.
"This is just one more animal success story and as much as we love caring for injured turtles, we'd rather not see our turtles in poor shape at all."
With summer approaching, the Zoological Society reminded boaters to take caution in grassy bays where turtles feed and look out for designated turtle signs, which mark where there are a high abundance of sea turtles.
– Photo courtesy of the BZS
Read More About
Category: All, Environment