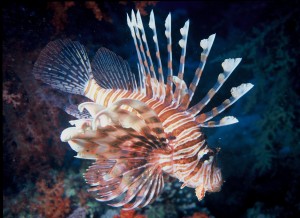 Scientists, researchers and environmentalists have created a new lionfish exhibit at the Bermuda Underwater Exploration Institute [BUEI] which opens today [May 15] highlighting the impact of the invasive species on the island's marine ecosystem.
Corey Eddy, a graduate student at the University of Massachusetts Dartmouth, helped to coordinate the new exhibit.
As part of his doctoral thesis Mr. Eddy is working with the Bermuda Lionfish Task Force — a coalition of Government departments, scientists, conservationists and dive operations — to study the ecological impact of lionfish on Bermuda's marine environment.
The venomous species, only found naturally in the Indian and Pacific Oceans, have no known predators in the Western Atlantic.
If left unchecked, lionfish — which have been found in the waters off Bermuda, the US East Coast and in the Caribbean in recent years — could wipe out local fish stocks and wreak havoc on the island's coral reef system.
Mr. Eddy will be presenting a lecture at the BUEI on June 4 in conjunction with the launch of the new exhibit. Tickets are $15 for the lecture and $25 for the lecture and a tour of the exhibit. They can be ordered by calling 294-0204.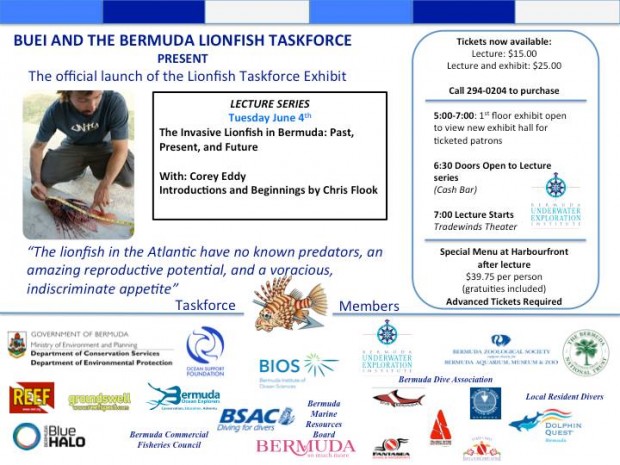 Emily Tripp — editor and publisher of the Marine Science Today website — recently talked with Mr. Eddy about his lionfish activities in Bermuda.
Q- How did lionfish end up in the Caribbean and Atlantic? Is it true that people released them from aquariums?
Yes, it appears to be true that lionfish were first introduced from personal aquaria, although we can't say whether that was intentional or accidental. For a long time, it was suggested that a lionfish tank at someone's home near Biscayne Bay was damaged during Hurricane Andrew, thus releasing the lionfish, but we actually have records that indicate lionfish were first seen in 1985 near Dania Point, Florida.
Q- How many lionfish are there today and how was their population able to grow so quickly?
It's really hard to answer the first part of this, as no one has actually estimated the overall population. That being said, researchers have seen lionfish in incredible abundances throughout their invaded range. For example, at sites in the Bahamas, there are more than 390 lionfish per hectare, which is about five-times as many as would be found in their native range. At deep sites around Bermuda, in the range of 200 feet, technical divers have been able to collect 30 lionfish from an area only as large as a classroom. So overall, it's hard to guess the population, but I would offer tens of thousands as an incredibly cautious estimate.
Q- Why should we be concerned about this? If nothing is done to keep the lionfish population in check, what will happen?
The invasion of the Indo-Pacific lionfish could rank as the worst environmental catastrophe in the Atlantic this century, if it is continued run uncontrolled. The biggest concern, not to minimize their reproductive success, is their voracious, indiscriminate appetite. They are generalist predators, meaning they will eat anything, and they are opportunistic, meaning they will eat at every opportunity. Taken together, they are non-stop eating machines. In Bermuda, we have seen lionfish with over 30 juvenile fish in their stomachs, but other people have seen twice that. They are known to eat about 70 different species, those important both ecologically and economically, such as fish, shrimp, crabs, and lobsters.
Q- The Bermuda Underwater Exploration Institute [BUEI] is opening a new Lionfish Exhibit. What will the exhibit include and will it be open to the public?
The exhibit is intended for a general audience and will be open to the public. The exhibit explains how lionfish were introduced to the Atlantic, why they are a problem, how bad the problem might get, and what people can do about it. It gives information about the fish itself, including a tank with live lionfish and there is a station where school tours can observe a lionfish being dissected. To lend perspective there are also displays about invasive species in Bermuda and other aquatic invasive species. The exhibit will be accompanied by a series of topical lectures over its five month run.
Q: What do you hope to accomplish by opening this exhibit?
A significant goal is to inform the local population about the lionfish invasion, but it is also hoped that the exhibit will increase awareness of the threat posed by invasive species generally and thus decrease the potential for future introductions.
Read More About
Category: All, Environment