[Updated with videos. England C won the game 6-1. Bermuda's goalscorer was John Barry Nusum, while Antoni Sarcevic, Marlon Jackson, and Andre Gray all scored one goal for England C, while James Norwood earned a hat trick.]
The England C vs Bermuda [team pictured below] match is underway at the National Stadium in Devonshire this evening [June 4], with the players being greeted by dignitaries before the game got underway. The visitors came out roaring, and scored in the first few minutes to take a 1-0 lead.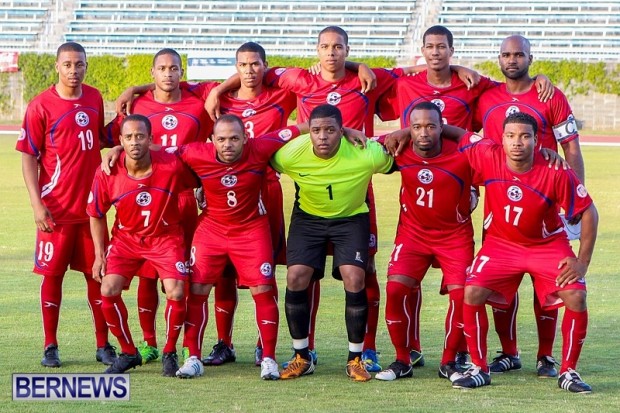 England C were then awarded a penalty a short while later, which they converted to make the score 2-0. The stands are not packed full at this time, however those that have attended are enthusiastically cheering whenever Bermuda makes a move. The match is still in the first half, and we will update as able as the game progresses.
Update 8.19pm: Bermuda's John Barry Nusum scores! Game now 2-1! Photo of Nusum heading the ball in below.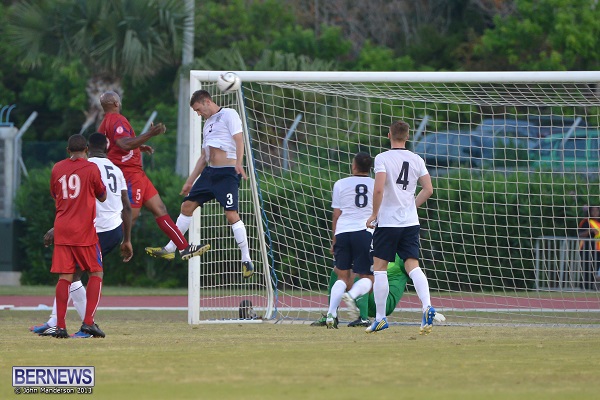 Update 8.31pm: It's now half time, and the score remains 2-1.
Update 8.42pm: Quick first half report: In the 5th minute Antoni Sarcevic from England C gave the visitors a 1 – 0 lead. In the 21st minute England C doubled their lead, when a foul in the box resulted in a penalty that was converted by Marlon Jackson. Bermuda got on the score sheet in the 40th minute courtesy of a goal by captain John Barry Nusum.
Update 8.49pm: The second half is now underway
Update 8.52pm: England scores again. Score now 3-1.
Update 9.09pm: England has scored again….the score is now 4-1, with about 20 mins left to play.
Update 9.21pm: England C were awarded a penalty, they converted it, and the score is now 5-1. England's James Norwood now has a hat trick.
Update 9.30pm: England C scored again right before the final whistle, to end the game 6-1. Both teams received strong applause from the crowd as the game ended.
England's goal scorers were Antoni Sarcevic [5 mins], Marlon Jackson [21 mins], James Norwood [53, 70, 86 mins] and Andre Gray [90 mins]. Two of England's goals were from penalties.
Update 10.08pm: Video of John Barry Nusum's goal for Bermuda
Update 10.57pm: Quick second half report: In the 53rd minute James Norwood got on the end of a cross and headed the ball pass a stranded Dill in goal for Bermuda to put England up 3 – 1. In the 70th minute Norwood beat the off side trap and calmly slipped the ball pass the advancing goalkeeper to give England the 4 – 1 lead. England C were award their second penalty of the game in the 80th minute as Norwood stepped up and completed his hat-trick making the score 5 – 1. The final goal of the game came in the 87th minute when Andre Gray scored from close range.
Update 11.58pm: Two of England's goals are below.
Update 12.57am: 8 minutes of general footage from the first half added below
Update 2.27am: 6 minutes of general footage from the second half added below. Includes one goal [penalty].
Bermuda: S Dill, D Ming, J Nusum [D Leverock], R Lee, T Manders [D Bascome], D Coddington [L Simmons], T Burgess, J Smith [A Russell], R Lambe, K Bean [Z Lewis], S Smith
England C: P Edwards, John Hunt, M Jackson, A Cook, H Beautyman, A Sarcevic, R Jackson, S Clucas, M Demetriou, A Acheampong, F Franks. Subs: M Walker, D Bradley, C Stokes, A Gray, J Norwood.
A photo slideshow can be seen here.
Read More About