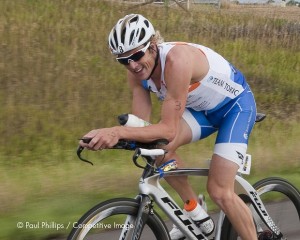 Bermuda's Tyler Butterfield earned a second place finish at the Ironman 70.3 Muncie, adding to a growing tally of points in his quest to qualify for October's 2013 Ironman World Championship in Hawaii.
While eventual race winner Andrew Starykowicz led the swim along with Callum Milward, Butterfield was just 45 seconds in arrears with a group of five other competitors. Starykowicz made a fast escape from his rivals out of T1, opening up a minute gap within the first half of the bike leg and another five minutes by the time he reached the run.
With his formidable lead forming early on during the 56-mile bike course, the battle for second and third ensued. Butterfield quickly bridged to Milward following the swim and drove the duo's effort as he worked to maintain a safe distance from the rest of the field.
Once onto the run, while Butterfield felt the fatigue of his fierce bike effort he still managed to make up four minutes on Starykowicz and build enough of a buffer between himself and Milward to claim second place.
"I was thankful to hold on for second and post a respectable run, since I probably spent a bit too much energy on the bike," said Butterfield. "But the effort was good training for my later races this season and will hopefully be a strong step forward toward Kona qualification."
Butterfield's second place finish in the 500-point race netted 440 points to add to his prior tally of 3000 [earned in Ironman Arizona where he finished 4th and Ironman Melbourne where he finished 10 th]. He followed up his performance in Muncie with a seventh place finish at Ironman 70.3 Racine on July 21st, a valuable 750-point race, thus earning an additional 440 points.
His current total of 3880 KPR points puts him in 33rd position in the pro rankings, a system in which the top 40 men as of July 28, 2013 will automatically qualify for the Ironman World Championship in Kona. A final 10 qualifiers will then earn entry as of August 25, 2013.
Next on Butterfield's race calendar is Ironman 70.3 Calgary on July 28th [another 500-point race], with the aim of earning enough additional points to secure a Kona start in the July qualifying round, as the early entry would allow for a more focused training build for the world championship. The alternative would involve a scramble for points in late season races–perhaps even another full Ironman–to score a spot on the Kona start line, which could ultimately detract from a strong performance in the race.
While Butterfield's current ranking does bode well for early qualification, a strong performance in Calgary would guard against slipping out of the top 40, as the final race weekend prior to the qualification cutoff–which includes two full distance Ironman races and numerous Ironman 70.3's–will surely see a number of athletes attempting to tip the points tally in their favor.
Read More About