The 2013 NatWest Island Games officially concluded on Friday [July 19] after one week of competition that saw over 1,000 athletes from 22 islands compete in 14 different sports.
The official medal table shows Bermuda in second place with an impressive total of 76 medals – 27 gold, 18 silver and 31 bronze.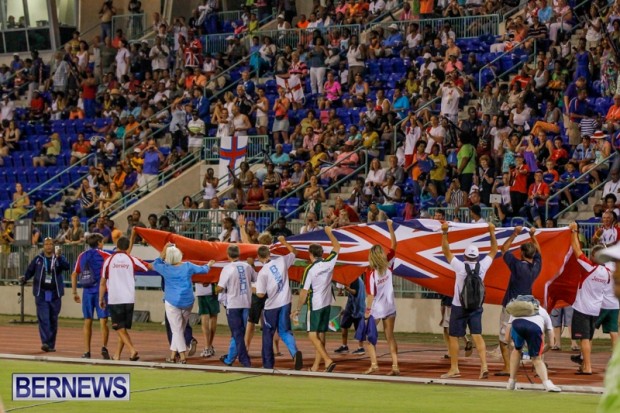 The week's events came to an end with the running of the half marathon finishing in front of the gathered crowd at the National Sports centre. Governor George Fergusson and Premier Craig Cannonier were on hand to hand out the last medals of the game and sat amongst the crowds to enjoy the closing ceremonies.
Flag bearers from all participating islands led the procession onto the field followed by the athletes and many volunteers who helped make the week long event a success. Chairman Jon Beard, IIGA Chairman Jorgen Petterson and Director for the 2015 NatWest Island Games to be held in Jersey, Phil Austin all addressed the crowd.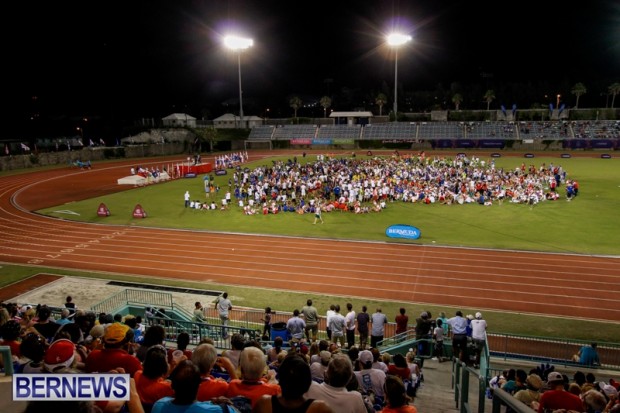 Shianne Smith, Bermuda's highest medal winner, presented a sealed bottle of water, a mixture of all the islands surrounding water, to an athlete representing Jersey. The night ended off with a fireworks display and an appearance by the Gombeys.
With over 70 medals plus numerous new records and personal bests set by Bermuda's athletes, there are really too many highlights to mention in one article, with the island capturing medals in fourteen of the sixteen different sports.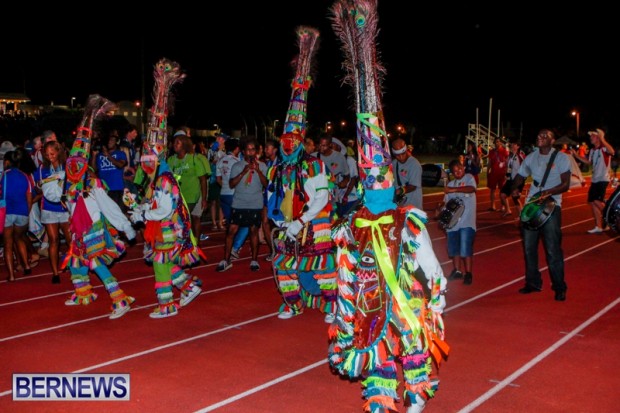 There were also many great moments for the visiting athletes, from the Isle of Man topping the medal table with 97 medals, to the small territory of St Helena claiming its first ever gold medal in the Island Games.
Whether athletes were winning or not, each was treated to applause and appreciation as thousands of Bermudians attended the events over the week to cheer on not only our own athletes, but also our visitors.
Speaking after the Games concluded, Vice-president of the Bermuda Basketball Association Cecil Hendrickson said, "During the Games I saw my country at its best. I saw courtesy, sportsmanship and the politeness that we possess in our basic DNA on vivid display.
"I saw people of all walks of life come together to cheer on the best of us against the best of them. I saw a camaraderie and atmosphere that only sports can bring. No one was worried about political affiliations or social status, we had one purpose…cheering for our team.
Mr Hendrickson said, "As a key player in basketball in Bermuda I was impressed, as a fan I was blessed to be a part of this, and as a Bermudian I was proud of my people."

Click photos to enlarge:
Read More About