[Updated] The Bermuda National Swimming Team — and their 14 medals — returned home last night [July 7] from the Central American & Caribbean Amateur Swimming Championships in Costa Rica.
The 14 medals were won over a five day period, with two relay teams winning gold medals in record setting style, and six individual swimmers claiming medals.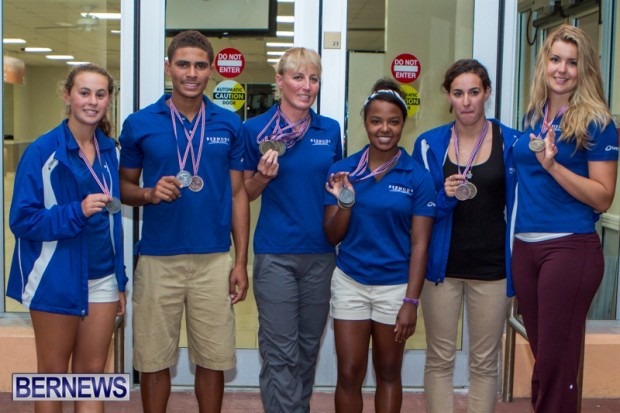 Lisa Blackburn lead the team with four individual golds and one silver, Stephanie Myles won a bronze, Shannon Hassell won a silver, Ashley Yearwood captured a silver, Rebecca Sharpe won two bronze medals, Jesse Washington won a silver and bronze.
Rounding out the team was Rebecca Heyliger who was part of both gold medal winning relay teams, and Ashley Irby and Andrew Beveridge, who showed impressive form in their races.
The Ladies 4x100m medley relay team of Rebecca Sharpe, Lisa Blackburn, Rebecca Heyliger and Ashley Yearwood won a gold medal in record setting style, as did the 4x100m Freestyle team of Rebecca Heyliger, Stephanie Myles, Lisa Blackburn and Ashley Yearwood.
The Championships were open to athletes from 19 nations and territories across the Caribbean, Central America and South America, and saw over 2,200 swimmers take part.
Speaking previously, National Swimming Coach Ben Smith said that he hopes the results of this meet, along with last several years of results, will allow Bermuda swimming to reach 'National Sport' status.
"We remain quietly patient and optimistic but it is time that this sport receives the credit that it deserves," said Coach Smith.
Coach Smith said it was "really good preparation" for the Island Games which will be held in Bermuda next week, and said they hope to take these performances into the pool next week.
Update 2.26pm: Shadow Minister Michael Weeks said, "On behalf of the Bermuda Progressive Labour Party, our members and supporters, we extend congratulations to our medalists in the Central American and Caribbean Amateur Swimming Confederation Championships and Senior Championships.
"Bermudian athletes continue to represent our people impeccably on the world stage and have thrived in global competition. We congratulate our athletes and encourage them to continue striving for athletic and personal greatness."
Read More About