Rachel Ball, Jesse Marshall, Xiaoyu Sun and John Russell were announced as the recipients of this year's Bermuda Government Scholarships.
Yesterday [Aug 15] Minister of Education, Nalton Brangman announced the names saying "To all of you who were fortunate enough to be selected, we are delighted that we are able to recognise you and provide you with that much needed monetary boost which I am sure will assist you all greatly.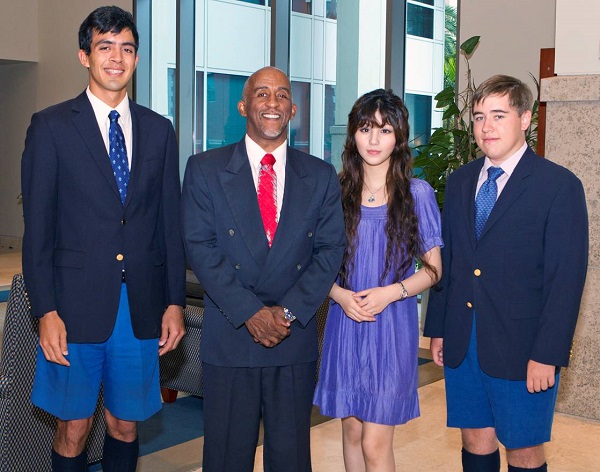 "Today we recognise our new Bermuda Government Scholars, recipients of Further Education Awards and the Mature Student Award. These scholarships and awards recognise the brightest talents in our community.
"Each of you represents an investment for this Government. We understand that the important studies that you will undertake over the next few years will serve this community well upon your return home.
"You are an impressive group, you are the future leaders of this Country and you are a testament to what can be achieved with hard work, focus and determination," said Minister Brangman.
Bermuda Government Scholars 2013
Rachel Leah Ball is currently a Health Science Pre-Med student at Columbus State University pursuing a goal of becoming an Orthopaedic Trauma Surgeon. She volunteers for YMCA to address the need created by the lack of funding for health care and enjoys mentoring aspiring medical students. She achieved the President's List for Spring 2013 in recognition of superior academic performance – Ms. Ball has already left to begin her classes.
Jesse W. Marshall is currently in his second year at the University of Southampton pursuing a degree in Natural Sciences which he feels fits perfectly with Bermuda and his hopes of returning to Bermuda focusing on Oceanography. He is an avid sportsman who enjoys tennis, golf and soccer.
Xiaoyu "Yuki" Sun is a 2013 Saltus graduate who achieved the Headmaster's prize for GCSEs and is an Advanced Placement Scholar with Honors. She will be pursuing an actuarial science designation at Heriot-Watt University in Edinburgh, Scotland.
John Russell has been invited to join the University of Exeter to pursue a Mechanical Engineering degree commencing September 2013. He has achieved the Duke of Edinburgh Bronze, Silver and Gold Awards and wants to help drive Bermuda towards a more energy sustainable country.
The scholarships were recently capped at $35,000, and the length extended from 3 years to 4 years.
Read More About