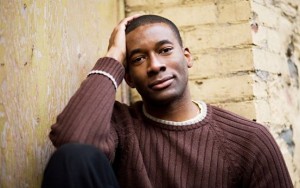 The Chewstick Foundation is reintroducing the Reasnin series, with the first one to take place on Tuesday evening [Aug 20] with Bermudian film & stage actor Daren Herbert.
Chewstick said, "Daren has been living and working as an actor in North America for many years and is eager to start the conversation on the the realities of being an international actor and the challenges and lessons he's experienced along the way.
"The Reasnin series offers unique insight into the minds of icons from a broad range of areas in the community. While the inception of the series was arts focused the series has expanded to include a number of different types of professionals, and highlight an array of activists, artists, and other icons to deepen on many levels.
"Reasnin is an interview style, public discussion, in this edition questions fielded by The Chewstick Foundation's Co-Founder Najib "Tanzaoui" Chentouf of Fresh TV's Tanzaoui Takes fame. The series began on in 2011 with an interview of artist Sharon Wilson and continued with interviews of Allan Warner (of Warner's Gombeys), sculptor Michael Walsh and painter Monica Jones.
"After some months the series will return in a special edition with Mr. Herbert, who has worked on stages and sets in Canada, the U.S., Korea and Japan. His film and television credits include Dreamgirls, Stargate Universe, Human Target, This Means War and more. He is currently acting as the lead in the current stage production of Dreamgirls in Vancouver and can also be seen in on the CW series Cult.
"Daren wants to be able to share the lessons that he has learned in order to help aspiring actors to get into acting and to understand the daily work that must be put in, in order to sustain. The questions presented, will probe into aspects of Daren's life and work and give attendees an opportunity to explore the artist as a person, talent and professional.
"Following the interview, the audience will be invited to ask questions of Mr. Herbert to gain further insight into his journey, his outlook on the world and where he sees his contribution in the future."
A brief clip of Mr Herbert's appearance on A&E's drama Breakout Kings in 2011:
"Reasnin is completely free, but donations toward the Chewstick Foundation's programs and infrastructure are much appreciated. Each and every person is welcomed to attend Tuesday, August 20th at the Chewstick Headquarters on the corner of Court Street and Elliot Street.
"The talk will start at 6:00 pm and questions and general discussion take place immediately following. For future suggestions for individuals to interview, volunteer roles available and other program information contact us at The Chewstick Foundation on 292-2439, e-mail info@chewstick.org or visit www.chewstick.org."
Read More About
Category: All, Entertainment