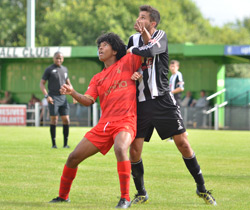 Ilkeston FC announced that talented young Bermudian International 17 year old Rai Simons has put pen to paper on a two year deal with the club. This will see Simons complete his studies with the Academy whilst hoping to gain first team football with the Northern Premier League side.
Robins Manager Kevin Wilson said, "We're delighted to have him signed up on a contracted basis as this lad is incredibly talented and he's got a very bright future ahead of him.
"We're all incredibly excited to have Simons sign, he's got a lot of potential already at such a young age. It's a very similar situation to when we had Tyrell Waite now at Notts County at the club, he's got the potential to go places in football and hopefully he can flourish here at Ilkeston."
"His development over the last 18 months has been monitored closely by the Robins Bermuda partner," said Bermuda Hogges owner Paul Scope. A delighted Scope spoke about the youngsters new deal and the progress of a host of Bermudian talent in Ilkeston.
Mr. Scope said,"We all [Both us in Bermuda and those in Ilkeston] think Rai has something incredibly special about him, he has a lot to learn still, but this is just the first step on the ladder for him, there's a lot more to come.
"He's tall and strong for his age, his temperament is excellent, but more importantly he has a tremendous dedication to succeed at a professional level.
"I know from speaking to him during his short time at the club he is loving every minute of his experience at Ilkeston so far.
"He's a very driven young man and after conversations with his family I know they're also delighted that he is being given this great opportunity.
"But now it's all up to Rai, it's been a big year for him so far. It's up to him to capitalise on his success since joining up with the Bermuda National team setup.
"Rai did well on his full International debut this summer, and winning a gold medal along with two other Robins, first team squad members Antwan Russell and Lejaun Simmons definitely did no harm to any of their stock.
"The forth 'Bermuda Robin' Dante Leverock is also doing incredibly well, he's working towards his university degree whilst training with the club and at the same time helping behind the scenes at The New Manor Ground enabling him to get a real feel of running a football club.
"More importantly though it's shows the depth of talent that Bermuda has to offer Chairman Dave Mantle and Management team Kevin Wilson and Darren Caskey and all the back room staff at the club are incredibly excited, as is everyone over here in Bermuda about this unique link and what great opportunities may lie ahead for promising talented young Bermudians."
Read More About