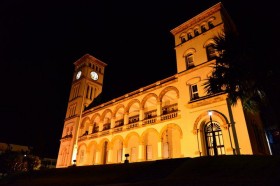 After a marathon session that extended until approximately 5am this morning [Sept 28], Members of Parliament passed the Bill to allow the formation of the Tourism Authority.
Prior to its passage, MPs from both sides of the aisle spoke at length about the Bill in the House of Assembly covering aspects such as the closure of the BDOT, selecting the CEO, level of Independence of the Authority, financial aspects, tourism in general and more.
Last month Government confirmed that the Bermuda Department of Tourism [BDOT] will be dissolved, staff will have to reapply for positions, and the Tourism Authority will come into effect which will "operate as a private sector entity."
Speaking in the House during the debate, Derrick Burgess [PLP] spoke about his concerns for the staff of the present BDOT, and said they "have privatized tourism."
Rolfe Commissiong [PLP] said the Authority will "essentially be funded by the Government, but there is little in the way of accountability" which he said was "problematic."
Susan Jackson [OBA] said the Authority can give our tourism product a "rebirth", while Cole Simons [OBA] spoke about the importance of our overall product, and described an incident of receiving  "abysmal" service at a major local hotel.
Bob Richards [OBA] said mixing politics with business is like "oil and water." The Finance Minister said one of the objectives of the Authority is to "remove the oil from the water."
Marc Bean [PLP] said if the Authority was being funded by the private sector he "wouldn't even stand up." The Opposition Leader said it is a "question of accountability" as it's "taxpayer money in private hands…I do not care how you paint it, it is what it is."
Shawn Crockwell [OBA], the Tourism Minister, said if we can get over 400,000 air visitors into Bermuda, the industry will do well. He said the island has an issue with capacity, and told the House one of the main objectives of the Government is new developments.
Speaking previously, Chair Designate of the Tourism Authority David Dodwell said: "This is a very significant step for Tourism in Bermuda. We are working towards our vision of being an independent, modern, and leading tourism enterprise – dynamic, entrepreneurial, and vibrant.
The Bermuda Tourism Authority Act, as tabled in the House, is [PDF] here.
Read More About