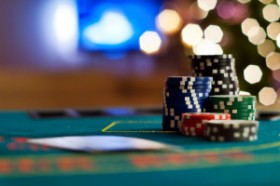 Tomorrow [Nov 29] the Government will table the Referendum Act 2013 which will deal with allowing casino gaming in Bermuda, and the Ministry said that a notice of the date for the referendum must be given within 90 days of its approval.
Minister of Tourism & Transport Shawn Crockwell said this is an "exciting time for Bermuda" and that "approving the introduction of casino gaming may be the game changer that the economy needs."
Minister Crockwell said: "The implementation of a regulated and dynamic gaming industry, which includes luxury casinos that cater to our tourists, has the potential of creating a brand new industry for Bermuda which will create new jobs for Bermudians and offer exciting entertainment for our guests.
"The Cabinet Gaming Committee is in the process of finalizing the Government's vision for a new gaming industry. Our research shows that if done correctly the introduction of casino style gaming in Bermuda can generate much needed revenue for the Government and provide jobs and even careers for our people."
The Minister also said that casino style gaming has been extremely successful in boosting tourism numbers in Aruba, Bahamas and the Dominican Republic, and that Puerto Rico has generated hundreds of millions of dollars in gaming revenues which has been used to fund their Tourism Authority and provide financial backing for hotel development.
Minister Crockwell said: "Most, if not all, of our competitors have introduced casino style gaming as an amenity for their tourists in their destinations. As the Chairman of the Bermuda Tourism Authority recently stated, Bermuda needs to get competitive again."
The Minister stressed that the Government has "done its due diligence in looking at sophisticated networking systems that will allow it to monitor and control this industry."
A Gaming Commission will be established to regulate and oversee gaming and every precaution will be taken to mitigate against any negative impact on society, the Ministry said.
The Minister added: "we strongly believe that we have the intellect and commitment to create an industry that will be beneficial to Bermuda and if we all work together we can ensure that this industry will be successful and possibly the envy of the world. Singapore has done it and so can we."
In the recent Throne Speech the Government committed to holding the referendum in the first quarter of 2014. Pursuant to the substantive Referendum Act 2012, a notice of the date for the referendum must be given within 90 days of the approval of the Referendum Act 2013.
In May 2013, Minister Crockwell said the "Government will lay the gaming referendum bill this session and we expect to hold a referendum at the end of summer or beginning of fall." The Opposition PLP has previously criticised the Government for "lack of movement" on the referendum.
Gaming in Bermuda has been discussed for a long time, with reports extending back to at least 1912, when then Governor Sir Walker Kitchener rejected a proposal to establish casinos and gaming halls in Bermuda.
Read More About