Politicians are still debating the pros and cons of expanding gaming in Bermuda more than a century after a group of American investors first proposed building casinos and a race track here intended to remake the island into a mid-Atlantic Monte Carlo.
The 1912 plans — aimed at drawing a wealthy East Coast clientele to the island — were turned down by Governor Sir Walker Kitchener following a lengthy debate in the House of Assembly when the majority of the 36 Members of Colonial Parliament balked at the idea of turning Bermuda into a gamers' paradise.
One Bermuda legislator remarked that the island was opposed to gaming because "residents have an old-fashioned prejudice against suicides" — a reference to the fact  gamblers are said to attempt suicide at a rate which far exceeds that of almost any other clinical population.
Associated Press report on 1912 Bermuda casino proposal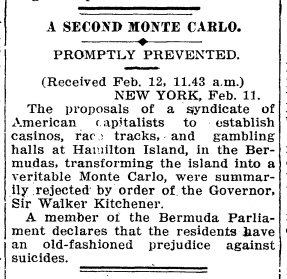 According to a Government-commissioned study conducted by the New Orlean's based Innovation Group, gaming has the potential to add nearly 3,000 jobs and up to $146 million a year to Bermuda's economy.
Last year then Premier Paula Cox tabled the Referendum Act 2012 in the House of Assembly, saying it would be followed by a referendum on gaming in Bermuda in due course.
The referendum has not yet taken place, and when asked about a possible date Premier Cannonier said, "I don't want to give a specific date, but certainly this session."
Many from the island's religious community oppose gaming, with dozens of religious groups forming a group aimed at opposing any change to the Act.
– Photo of "Northern Advocate" news report courtesy of Ian Sutton's Gamingfloor.com
Read More About