Visitors to the island by air increased in the third quarter by 2.4% while cruise arrivals declined by 12% year over year, Tourism Minister Shawn Crockwell said today [Nov 18].
Minister Crockwell said, "Total visitor arrivals for the third quarter of 2013 decreased 7.6% when compared to the same quarter of 2012.
"A continued reduction in cruise arrivals contributed to this decline with a total of 240,348 visitors arriving on Bermuda's shores compared with 260,129 visitors in the third quarter of 2012."
Chart extracted from the 3rd Quarter Visitor Arrival Report [PDF]: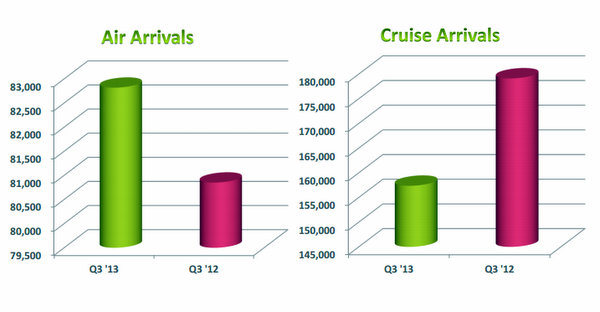 "The estimated visitor spending for the third quarter ranged between $87.2 million to $118.1 million versus a range of $97.9 million to $117.1 million in 2012," the Minister continued.
"As we look to future air arrivals and forward projections of the islands hotels, we note that there continues to be positive signs for the next six months."
The Minister's full statement follows below:
Good Morning!

I am happy to be able to share the Third Quarter visitor arrival results for 2013 at a time when there are positive signs of improvement, especially for air arrivals. This presentation of the visitor statistics will be my final one as Minister.

As promised, with the passing of the Tourism Authority Act, the Chairman Mr. David Dodwell or the CEO will take on this responsibility. The passage of this ground breaking Act will, from this time forward, influence and manage the future sales and marketing direction of Tourism.

Fully aligned to the National Tourism Plan, this now sets the road map for increasing jobs and opportunity in the tourism industry. I am especially pleased with the progress of the transition and expect to be announcing a brand new Board of Directors in the very near future.

Now to the arrivals!

Visitors to the island by Air increased in the third quarter by 2.4%. A total of 82,819 visitors flew to the island during this period compared to 80,852 in 2012.

All categories of purpose of visit showed increases for the quarter with the biggest increase achieved being convention travelers which saw a jump of 110% year over year.

Visitors from the UK and Rest of the world markets soared, increasing by 20% and 49% respectively, while visitors from the United States and Europe remained relatively flat.

The month of July was the biggest gainer with a 6% increase, August slipped modestly by 1% and September gained by 2%.

Arrivals from the Canadian market continue to be affected by the reduction in service decreasing arrivals by 12%.

On a positive note, Air Canada has already added two additional flights for the winter months, with a further increase scheduled for summer 2014, and it is anticipated that this will once again boost visitors from the Canadian market.

The New York market continued to be the best achieving area of the US market with a 13% increase in the third quarter and a cumulative 11% increase year to date.

The strategic addition of Delta service out of La Guardia has spurred this growth. The decision to allocate our promotional dollars in the all-important Northeast market continues to pay dividends.

Cumulative air arrivals for the period January to September 2013 are up 1%. Preliminary results for October 2013 will result in a 2% increase in arrivals. UK air bookings, for all of 2014, are already pacing 16% ahead of the same period in 2013.

Cruise arrivals, on the other hand, continued their expected decline. With 20 less cruise calls on the books compared to the third quarter of 2012, cruise visitation declined by 12% year over year. A total of 157,373 visitors sailed to the island during this period.

Yacht arrivals in the third quarter are typically a slow period with 156 yachtsmen sailing to the island during this period representing a modest increase of 3%.

Total visitor arrivals for the third quarter of 2013 decreased 7.6% when compared to the same quarter of 2012.

A continued reduction in cruise arrivals contributed to this decline with a total of 240,348 visitors arriving on Bermuda's shores compared with 260,129 visitors in the third quarter of 2012.

The estimated visitor spending for the third quarter ranged between $87.2 million to $118.1 million versus a range of $97.9 million to $117.1 million in 2012.

As we look to future air arrivals and forward projections of the islands hotels, we note that there continues to be positive signs for the next six months.

The Hotel Pace report, which monitors the advanced bookings for the islands major hotels, as of October 31, 2013, reported that their total rooms on the books year-to-date for 2013 are down 1% from last year.

It should be noted that a significant number of visitors are booking vacation home accommodation and this segment of the market continues to show gains.

Total rooms on the books for the next 6 months are pacing up 6% vs. last year.

Transient rooms on the books for the next 6 months are up 8% vs. last year, with large increases in the months of December and April.

Group rooms on the books for the next 6 months are up 20% over last year, with the most significant increases in the months of November, December and April.

Tour Operator rooms on the books for the next 6 months are up 13% vs. this time last year, with a very large increase in December.

If 2013 concludes at the current pace, the hotels anticipate that they will finish with a 1% increase over last year in room nights achieved.

In closing, I remain absolutely committed to a very successful transition to the new Tourism Authority. There is still much work to be done but we continue to be on track with the full transition by March 31, 2014.

I would like to thank Chairman Dodwell and his team for the tremendous hard work being put in to make the Authority a reality; to all of our Department of Tourism staff, our overseas agency partners, our tourism industry partners and, most of all, the people of Bermuda for the dedication towards continued growth and desire to be a destination of which we can all continue to be proud!

Thank you
-
The 3rd Quarter Visitor Arrival Report is below [PDF here]:
Read More About