Eight local schools received $30,000 each at the culmination of PartnerRe's successful Dollars for Hours project that pairs student volunteers with local charities on community projects.
Students aged 14 to 18 from CedarBridge, Saltus, Somersfield, Berkeley, Bermuda High School, Bermuda Institute, Warwick Academy and Mount Saint Agnes took part, with each school adopting a different charity project.
Participating non-profits include: The Bermuda Heart Foundation, Bermuda National Trust, BIOS, BUEI, The Salvation Army, Westmeath, Bermuda Cancer and Health and The Bermuda Audubon Society.
At an event hosted by PartnerRe in early December to celebrate and showcase the students' achievements, PartnerRe's EVP and Chief Financial Officer, Bill Babcock and Junior Education Minister Leah Scott congratulated the students on their hard work and thanked everyone involved for their contribution to the Dollars for Hours initiative.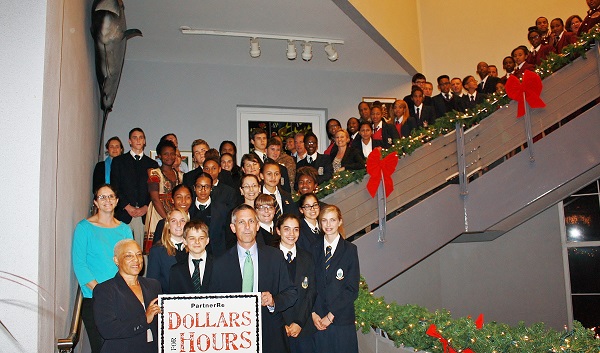 In addition to supporting scholarships, the Dollars for Hours initiative is one of PartnerRe's major contributions to education in Bermuda.
A spokesperson said, "We believe that helping to maintain and improve the quality of education in Bermuda is the single most important thing we can do as a Bermudian company and this gesture is an important way we accomplish that aim.
"Dollars For Hours: Youth & Community in Partnership," now in its eighth year, has had more than 1,300 students from eight secondary schools donate over 14,000 hours of hands-on support to local charities for a total donation of close to $1,800,000 to date.
Participating schools will use the funds for: curriculum development, classroom upgrades, bursary and scholarship funds, extracurricular activity support, student incentive programs, IT equipment, and infrastructure projects.
Read More About