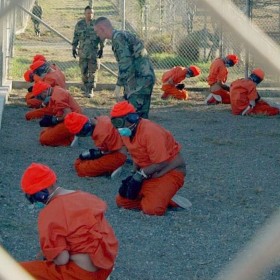 The United States has transferred the final three ethnic Chinese Uighur captives from the Guantanamo Bay prison, with Yusef Abbas, Saidullah Khalik and Hajiakbar Abdul Ghuper all sent to Slovakia.
While these were the last of the Uighurs to be transferred, Bermuda was among the first countries to take in Uighurs from Guantanamo Bay.
In July 2009 four men — Khaleel Mamut, Abdulla Abdulqadir, Salahidin Abdulahat, Ablikim Turahun — were released from the US detention centre at Guantanamo and resettled in Bermuda.
The Uighurs landed in Bermuda at around 6am on July 11, 2009 on a private jet, with Bermudians being made aware of their arrival approximately five hours later that day.
The four men were part of a group of Chinese nationals handed over to American forces in Afghanistan, but found years ago not to be "enemy combatants" and cleared of any and all charges. They were not repatriated to China due to fears of their safety upon return.
Controversy erupted after former Premier Dr. Ewart Brown's decision to accept the Uighurs without first consulting Cabinet or Government House.
There were protests locally, and the British Government expressed its displeasure, stating that due to Bermuda's status as an overseas territory they should have been consulted on the move.
Dr. Brown survived a vote of "no confidence" after Parliament rejected the resolution in a 22-11 vote after a marathon 14 hour debate, which went through the night.
Last year, lawyer Richard Horseman wrote to Premier Craig Cannonier suggesting that the Bermuda Government pass legislation that will grant the Uighurs, their spouses and children Bermuda status.
Mr Horseman said that the men "remain in limbo" and the "authors of their misfortune have now vanished into thin air. The men are left to fend for themselves. Premier, the time has now come to right this wrong."
On Tuesday [Dec 31] Pentagon spokesman Rear Adm. John Kirby said, "The Department of Defense is announcing today the transfer of Yusef Abbas, Saidullah Khalik, and Hajiakbar Abdul Ghuper from the detention facility at Guantanamo Bay to the Government of Slovakia.
"These three are the last ethnic Uighur Chinese nationals to be transferred. They were subject to release from Guantanamo as a result of a court order issued on Oct. 7, 2008, by the U.S. District Court for the District of Columbia, and are voluntarily resettling in Slovakia.
"As directed by the president's Jan. 22, 2009, executive order, the interagency Guantanamo Review Task Force conducted a comprehensive review of these cases.
"As a result of that review, which examined a number of factors, including security issues, these individuals were designated for transfer by unanimous consent among all six agencies on the task force.
"In accordance with statutory reporting requirements, the administration informed Congress of its intent to transfer these individuals.
"The United States is grateful to the government of Slovakia for this humanitarian gesture and its willingness to support U.S. efforts to close the Guantanamo Bay detention facility. T
"he United States coordinated with the government of Slovakia to ensure the transfer took place in accordance with appropriate security and humane treatment measures.
"This transfer and resettlement constitutes a significant milestone in our effort to close the detention facility at Guantanamo Bay.
"Secretary Hagel remains grateful to the Defense Department's Special Envoy Paul Lewis, and Department of State Special Envoy Cliff Sloan, for their and their respective teams' many efforts that facilitated this successful transfer."
155 detainees remain at Guantanamo Bay.
Read More About