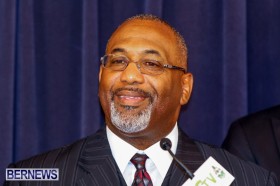 A report from Louisiana's Times-Picayune says that Bermuda's Commissioner of Education Dr Edmond Heatley will be interviewed on Thursday for the post of Superintendent of the Orleans Parish School Board in Louisiana.
Dr. Heatley, an American, took up the post in Bermuda on September 11, 2013; and last week news reports indicated that he was shortlisted for the position in Louisiana.
Yesterday Dr. Heatley confirmed that he is a finalist in the superintendent search saying, "This was not a proactive search by me; I was invited to apply and I did. I have not applied for any other jobs.
"My resume is not 'out there.' And frankly, I was also surprised that my name was announced publicly in open session, as a finalist by the search committee.
"Back in December when I allowed my résumé to be put forward, there were a number of major, and from my perspective, unsettling changes within the Ministry," continued Dr. Heatley.
"The PS had resigned, the Education Ministry had been merged with another Ministry and the Minister had been replaced. However, since then, I am pleased to report that I have built a very positive working relationship with the current PS and Minister.
"I appreciate that there may be some who will question my commitment. These would be people who do not see me work every day and who do not understand what it takes to move an education system in a progressive direction. I remain committed to the students of Bermuda and I remain committed to improving the Bermuda education system," added Dr Heatley.
The Times-Picayune reported, "The two other finalists are to be interviewed Thursday at a time still to be determined: Thomas Darden, is a charter school administrator in Philadelphia, and Edmond Heatley, the education commissioner of Bermuda. Interim Superintendent Stan Smith said both out-of-towners were coming to New Orleans for the interviews."
Speaking in the House of Assembly on Friday [Mar 14] Independent MP Terry Lister advised the Minister to tell Dr. Heatley to "get cracking" saying "we want a commitment to our children, and if he is not prepared to do it, get cracking."
Multiple attempts by Bernews to seek clarification directly from Dr. Heatley have been unsuccessful.
Read More About