[Updated] Northlands Primary School held their annual egg drop competition yesterday [Apr 17], with students having an Easter-themed science lesson which involved making contraptions to enable their egg to survive a drop from a fire truck.
The Bermuda Fire & Rescue Service provided their Bronto bucket truck to drop the eggs. All of the student's eggs  – which were carefully wrapped with some designed with make-shift parachutes — were loaded onto the truck along with a teacher and fireman.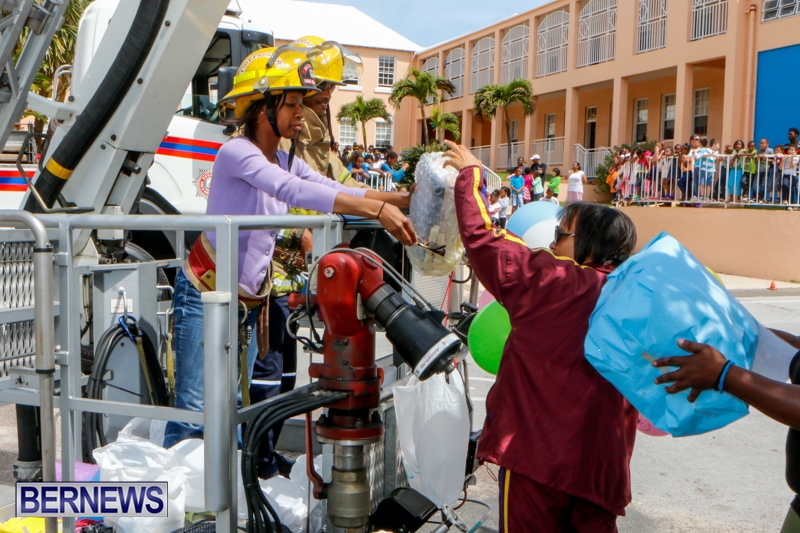 Children screeched with excitement as the eggs made their way to the ground, anxious to see if their egg survived the fall. In a testament to the students' science skills, all but one of the eggs made it back to the ground without breaking.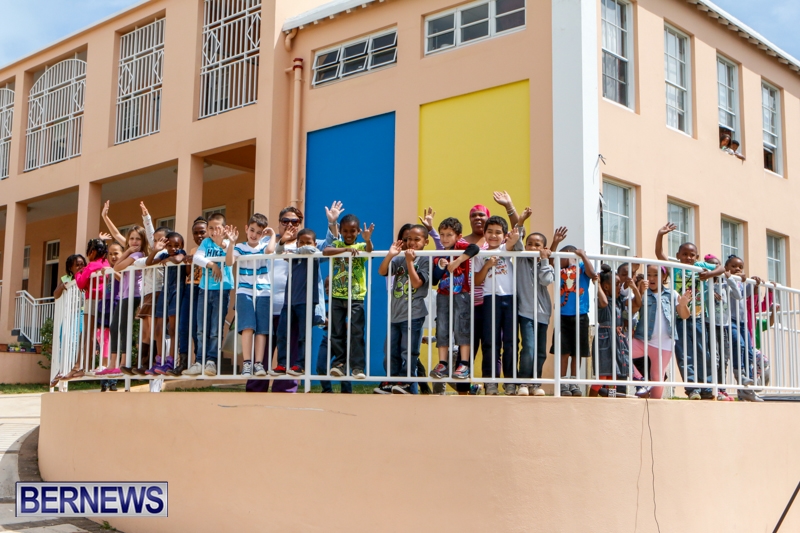 Before the event, school principal Charles Joynes said, "Over the past week, our students have been very excited about the upcoming event. We are about to do the egg drop and it's part of our science curriculum. Students have developed containers for their eggs and the eggs that can fall from the highest drop point without breaking – a student will receive an award for that."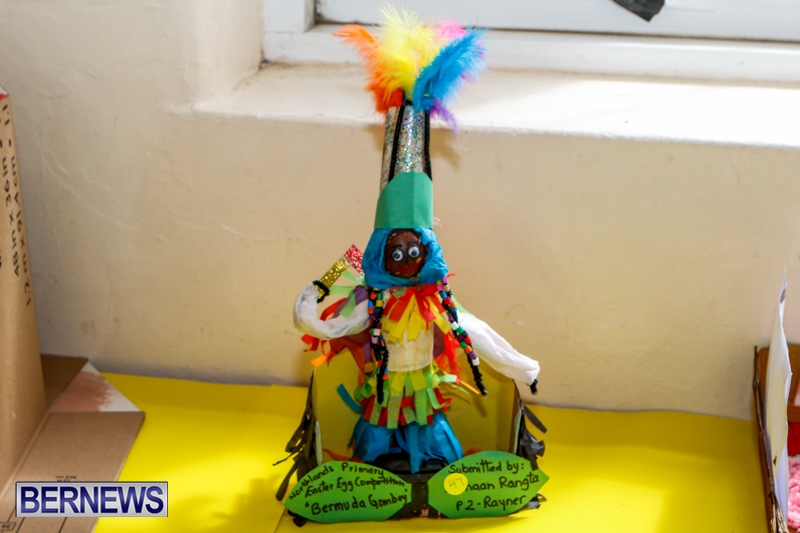 "We've also had a kite competition and an egg competition in the building where students decorated eggs; as a matter of fact, there's an egg in the building that's designed like Mr. Joynes with students surrounding him outside the building. Very, very creative students here at Northlands Primary School.
"We also have a kite display in the hall at this time where students made kites and we had a competition for them. We're just trying to keep that tradition alive here in Bermuda for our young people."
At the end of the event, the principal congratulated all the students on their efforts using science to protect their fragile packages and then presented the firemen with a certificate of thanks for their participation.
Update 11.25am: Northlands Primary School awarded the winners of the egg drop competition yesterday [Apr 17], recognizing them during a school assembly.

A spokesperson said, "The only class that did not survive the egg drop was Primary 5 White; all the other class eggs survived. Northlands was very appreciative for the assistance from the Bermuda Fire Department with the egg drop competition.

"Mr. Charles Joynes, school principal, presented a certificate to the fireman and thanked them for their assistance. Support teacher Ms. Cherie Simons was brave enough to go up in the fire truck bucket to drop the eggs.

"We also held a Purple Peanut Hunt in the afternoon for students in Primary 1-3 and students in Primary 4-6. Peanuts were scattered over the school field; some were painted purple, red, orange, and green, with one silver peanut.

"Each peanut color was worth points; purple peanuts were worth 100 points, red peanuts 50 points, orange peanuts 25 points, green peanuts 10 points, and unpainted peanuts 5 points, with the silver peanut earning the class that found it a bonus prize.

"Students collected the peanuts to determine the total for their class. The class with the highest total points was the winner. This was also a math lesson as it involved sorting and counting.

"The overall winner for the Primary 1-3 group was Primary 1 Tuzo, with Primary 2 Rayner winning the bonus Silver Peanut Prize.

"The overall winners for the Primary 4-6 group was Primary 5 White, with Primary 6 Daniels winning the bonus Silver Peanut Prize.

"In the kite competition, Jahdea Richardson won for largest, Kimura Cole won for smallest, Zadyn Daniels won for most colorful, Abigail Lavery won for most original, Azari Lemi won for best design, Chanz Godwin won for neatest, Nyoaki Williams won for best boxy, and Mahjani Barstowe received an honorable mention.

"In the egg competition, Cairo Simmons won for most creative, Lexcie Burrows won for most colorful, Susana Guerreiro won for best design, Satasia Swann won for most beautiful, Megan Moniz won for neatest, Ishaan Rangta won for most original, Selah Tuzo won for best use of a theme, and Lexus Brites received an honorable mention."
-
Click to enlarge photos:
Read More About