Science projects within the local schools may reach new heights thanks to student Kameron Young.
The high school student, along with her mentor Dr. Carika Weldon, will host a special "behind the scenes" presentation on Monday [Nov 12], at the Queen Elizabeth Hall, located at Bermuda High School for Girls [BHS].
Kameron, a 16-year-old student in her final year of the International Baccalaureate Diploma at BHS, recently conducted the following genetics study for her Biology IA: "How does the TAS2R38 gene affect a person's preference for sugar and sugar intake?"
The aspiring surgeon added: "I love genetics and this topic intrigued me; especially since a sugar tax was to be implemented. I wanted to find out if there is a correlation between your genetics and your preference for sugar."
Dr. Carika Weldon and Kameron Young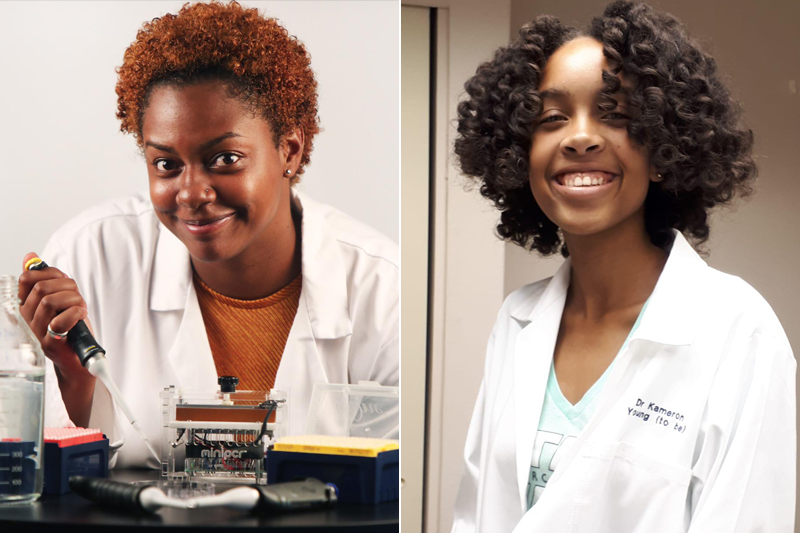 Bermudian Dr. Carika Weldon, a Lecturer in Biomedical and Medical Sciences at De Montfort University in Leicester, United Kingdom, said. "Kameron's project is breaking the barrier between school projects and innovative biomedical research.
"Gone be the days when a school science project has boundaries within the scope of a classroom. For Kameron to be able to obtain ethical approval from the Bermuda Hospitals Board with little to no help is commendable."
When asked why Kameron's project was ground-breaking, Dr. Weldon added, "To then go on to promote her study to the general public and to collect samples from 100 willing volunteers from our community is outstanding.
"Not only does it show the caliber of professionalism and drive Bermuda has in its future scientific leaders, but it shows the unity our community is capable to deploy to enable our young people to reach their dreams.
"Kameron's project brings a change for high school science on the island. She is a pioneer and has opened the floodgates for many more young Bermudian scientists to follow and surpass her demonstration of excellence."
"Kameron has done an outstanding job of linking her IB coursework and cutting-edge research with this real-life disease that plagues so many people, locally and globally. I am very proud of her," shared Mrs. Linda Parker, BHS Principal.
For Kameron, who is the daughter of Angela Young, the whole experience was "exhilarating" and at times very challenging.
She will share her journey during the upcoming presentation and explain why she selected the topic, her methodology and more importantly, the overall results of the study. The individual results will not be shared.
The presentation will commence at 6:00 pm through to 7:30 pm. Admission is free, but seating is limited. The pubic is encouraged to sign-up via email to kamerons.lab@gmail.com.

Read More About