The Bermuda Olympic Association [BOA] today announced that 17-year old runner, Kyrah Scraders, will be the Bermuda team's flag bearer at the Opening Ceremonies of the Youth Olympic Games being held on 16 August in Nanjing, China.
Ms. Scraders, who is a Grade 11 student at The Berkeley Institute, will represent Bermuda in the 800 meter race. She started her track career at the age of 7 with the Pacers Track Club and began to represent Bermuda at the international level at age 13. She placed 12th in the 800 meters at the World Youth Championships in Ukraine in 2013.
Ms. Scraders on the podium after winning at the Carifta Games last year: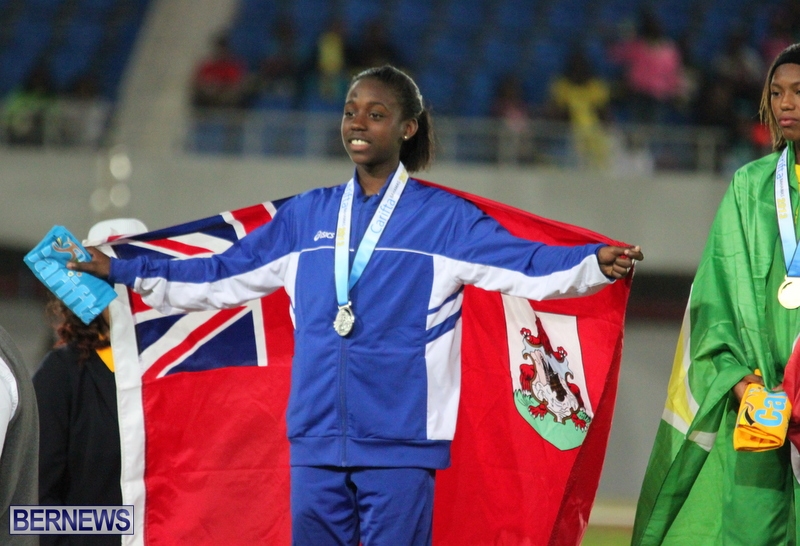 Ms. Scraders, who counts Usain Bolt among her sports idols, is aiming to compete for Bermuda at the 2016 Olympics in Rio.
Judy Simons, President of the BOA, said "We congratulate Kyrah on being selected as our country flag bearer at the opening ceremonies. She is certainly deserving and an excellent ambassador for Bermuda. We wish her, and the entire team, the best of luck in competition; they have already done us proud."
The Youth Olympic Games are held every four years, welcoming international competitors aged 14 to 18. The first summer Youth Olympic Games were held in Singapore in 2010, with the Winter Games following in Innsbruck, Austria in 2012. China is hosting the 2014 edition of the summer Games from 16 August to 28 August at Nanjing.
Read More About