The Bermuda Peace Day Concert is set to take place on Friday September 19, 2014, with a rain date set for Saturday, September 20, with long list of musical talent set to take the stage.
With support from PRS for Music, the music rights management organisation, the concert gates will open at 5.00pm, with a happy hour event, featuring music by Big Chill 5, to take place from 5.00pm through 7.00pm. The Bermuda School of Music will then perform from 7.00pm through 7.25pm, making way for the main concert to begin at 7.30pm.
This year's event will be hosted by Mike Hind, otherwise known by his stage moniker as Uncle Elvis. This year's line-up includes Richard Spencer, Bermuda School of Music, Jamie Lawson, Chrissi Poland, BONES Blues Band, Silken Strings, Hamish Stuart Band, and The Splashband.
Tony Brannon, Bermuda Peace Day Concert organiser said, "This is the third year we have been producing this special event. It started originally as part of the John Lennon Tribute Concert and it was a coincidence that the date we picked for the concert also turned out to be Peace Day.
"So, although we couldn't hold a concert in honour of John Lennon every year, we knew that Peace Day was something celebrated all over the world and felt that we could make an annual event of it."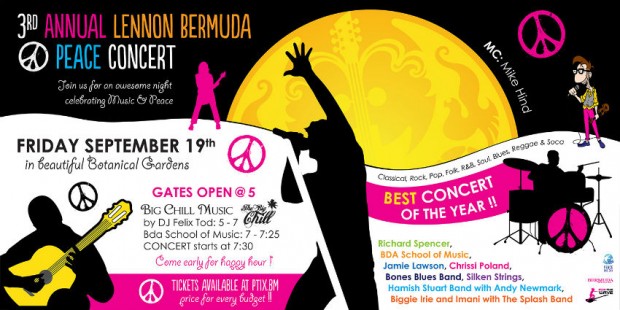 Jackie Church, Head of International Licensing for PRS for Music, said, "It is with great pride that PRS for Music is once again partnering with the Bermuda Peace Day Concert in aid of Ride the Wave foundation. Building on our work with the local songwriting community earlier this year at Beachfest, it is fantastic to again be involved with an event that celebrates both Bermudian and international music talent."
A spokesperson said, "PRS for Music represents over 100,000 songwriters, composers and music publishers around the world. It has been operating in Bermuda for many years and is currently working with local businesses understand the value of music copyright."
"Obtaining a PRS for Music licence ensures businesses across Bermuda can continue to play or perform music legally, which in turn helps local songwriters and music creators to earn a living.
"PRS for Music is proud to have a significant number of well known local Bermudian songwriters as its members such as Heather Nova, Stan [Lord Necktie] Seymour and the late Hubert Smith and is engaging with the wider Bermudian music community so they too can enjoy the benefits of becoming songwriter members.
"For information on how to obtain a PRS for Music licence for your business, please visit online.
The full artist information sheet follows below [PDF here]:
Read More About
Category: All, Entertainment, Music, News