The Ministry of Health, Seniors and Environment has revealed that Jeremy Madeiros, Senior Terrestrial Conservation Officer with the Department of Conservation Services, has been awarded the prestigious Blue Turtle Award [2013] for the Cahow Translocation Project, helping to preserve the endangered Bermuda Cahow.
Launched in 2009, the Blue Turtle Award is an annual award given by the UK's Joint Nature Conservation Committee [JNCC] for nature conservation work undertaken by an individual or group of individuals, from an Overseas Territory or Crown Dependency, who have made a valuable contribution to nature conservation in their Territory or Dependency.
The work or project must be long term, demonstrate innovation, and have made a "real difference."
A spokesperson said, "Mr. Madeiros was nominated for his work by the Bermuda Audubon Society and the JNCC review committee noted his dedication to nature conservation in Bermuda over the last 23 years and, in particular, his work over the last 14 years to conserve one of the world's most endangered seabirds.
"Mr. Madeiros began the visionary Cahow Translocation Project in 2004 after recognising that the greatest threat to this nocturnal ground-nesting bird was erosion and storm damage at their nesting sites. From 2004-2008, he translocated 102 near–fledged chicks from their original nests to artificial burrows on Nonsuch Island Nature Reserve, located off the south-east coast of Bermuda."
The Minister of Health, Seniors and Environment Jeanne Atherden said, "On behalf of everyone in the Ministry, I'd like to extend my congratulations to Mr. Madeiros. It's wonderful that his hard work and dedication to ensuring the recovery of Bermuda's Cahow has been recognized by this prestigious international award.
"We all wish Mr. Madeiros well and much continued success."
Mr. Drew Pettit, Director of the Department of Conservation Services, said, "This award is the first for Bermuda and reflects an incredible determination to save a species from extinction. Over the last 14 years, Jeremy has volunteered hundreds of nights, working in difficult conditions, to hand-feed the chicks, until they were ready to fledge."
Jeremy Madeiros with a Cahow chick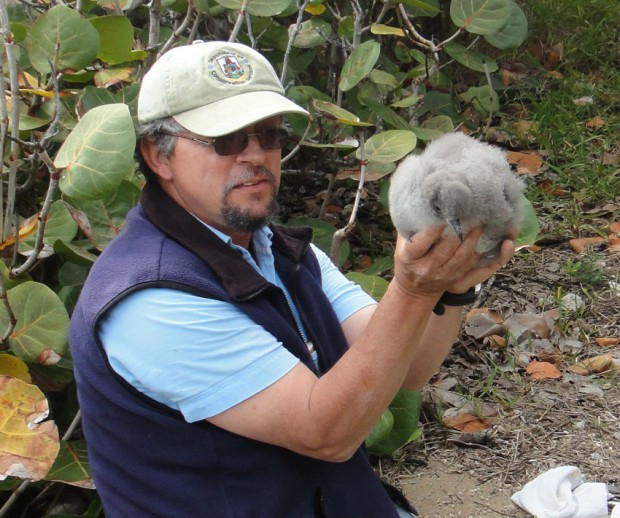 "Along the way Jeremy has developed new and innovative techniques that will undoubtedly be used by other scientists trying to save species in similar circumstances."
"This program has enabled the breeding population to begin a slow but accelerating increase from 18 pairs producing eight chicks annually to a new record number last year of 105 breeding pairs producing 53 successfully fledged chicks.
"In 2013, following on from the success of this project, Mr. Madeiros began a second four-year translocation project to establish another colony on Nonsuch Island. The Cahow is a slow breeder, with the females only laying one egg per season, and spends most of its adult life out on the open seas feeding on small fish, shrimps and squid.
"At three to five years old, birds return to their former nesting place and begin breeding, mating for life."
On hearing that he was the recipient of this prestigious award, Mr. Madeiros said, "I am very surprised and honoured to have received this award, which I would like to accept on behalf of all of my fellow researchers, workers and volunteers, who have provided assistance and support for this challenging and demanding project.
"Special thanks to Nicholas Carlile and David Priddell of the New South Wales Department of the Environment and Climate Change, for special inspiration, training and instruction, without which the translocation program could not have taken place.
"It is a privilege to work with such a fascinating species and symbol of Bermuda, thought to be extinct for so long, but which has proven to be such a tough survivor, providing hope for other endangered species around the world."
JNCC's Overseas Territories and Crown Dependencies Programme Manager Tony Weighell, one of the award's judges, said, "Jeremy has shown outstanding personal commitment to the conservation of the Bermuda Petrel.
"The award recognises not only his commitment but the undoubted support of friends and family which made it possible for him to spend many nights working under difficult conditions hand feeding chicks."
Read More About
Category: All, Environment, News