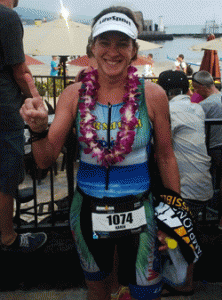 Bermuda's Karen Smith produced an outstanding performance as she won the Female 45-49 Age Group in the Hawaii Ironman Triathlon World Championships clocking an overall time of 10:36:37.
The 140.6 mile race consists of a 2.4-mile swim, a 112-mile bike and a 26.2-mile marathon which more than 110,000 professional and age-group athletes attempt to qualify each year. This year's race featured over 2,000 competitors representing 49 states and 68 countries.
After exiting the 2.4 mile swim in 11th place in her age group recording a time of 1:08:44, Smith worked her way up to 5th after the 112 mile bike with a time of 5:43:19. By the thirteenth mile of the run she was in second place, but still almost 6 minutes off race leader Dianna Hassell of the USA. However in a thrilling finish, Smith caught her in the last mile to take top age group honours.
Meanwhile, Chris Harris produced a strong run, his best discipline, to help him finish 175th in the Male 45-49 Age Group clocking a time of 12:02:26. Harris clocked 1:38:06 on the swim, 6:49:05 on the bike before closing out with a time of 3:21:44 on the run.
Bermuda's Tyler Butterfield had to pull out of the Ironman due to lower back pain.
Read More About