The Corporation of St. George is calling on the community to come together and assist with a clean up at Somers Gardens on Saturday, November 22nd from 8am – noon.
A spokesperson said, "Somers Gardens, the location of Sir George Somers heart, was terribly hit by both Tropical Storm Fay and Hurricane Gonzalo last month.
File photo of Somers Gardens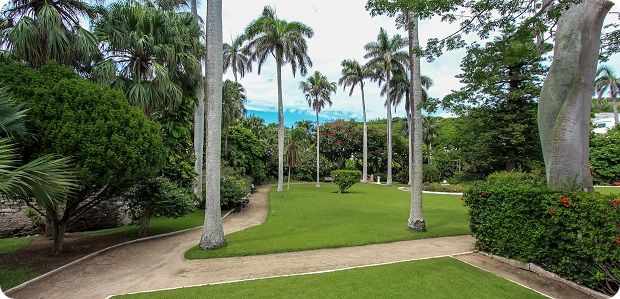 "As we worked to bring the town back after both storms, Somers Gardens has been closed since the devastation from Tropical Storm Fay. We encourage all of our community to come out with their gardening tools and assist with bringing our well known Gardens back to an open state.
"The Corporation of St. George is committed to getting "back to the basics", and working with our constituents to bring back one of our precious sites, is doing just that.
"The elected Members would like to take this opportunity to thanks our staff for their tremendous work after both storms to ensure our town was cleaned and have been working tirelessly to ensure our town will be ready for the upcoming Christmas Season.
"We extend an invitation to all of Bermuda to visit St. George's during the Christmas Season, as we will be the venue of the annual National Trust Walk About December 5, Santa comes to the Old Town December 13, late night shopping in the town commences December 6, and our annual New Year's Eve celebration with Prestege' and MC Ed Christopher and a beautiful display of fireworks to celebrate the New Year 2015."
Read More About
Category: All, Environment