"David Cameron's campaign to destroy the 'cloak of secrecy' around the ownership of offshore companies has been snubbed by the richest and most important of the UK's overseas territories," a report from the UK's Independent claims.
Their report said, "Bermuda boasts of being the 'risk capital of the world' because of the huge number of insurance and re-insurance companies registered on the islands, which account for more than a quarter of Bermuda's GDP.
"Bob Richards, finance minister of Bermuda, was in London this month, warning that the islands face a hostile economic climate, despite being host to many of the world's insurance companies, and having a per capita income of nearly £55,000 – one of the highest in the world.
"After his departure, he announced that Bermuda would 'reserve any commitment' to create a register of who owns Bermuda-based companies until after the UK, USA and Canada had created registers, which means a delay of several years at least."
Screenshot of the Independent's article: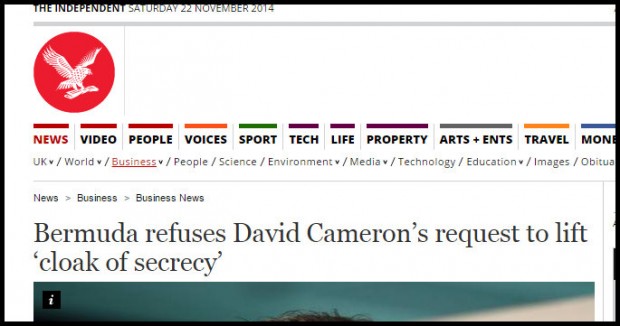 The Independent quote Minister Richards as saying, "If we agree to a public register while our competitors around the world do not, we will put ourselves at a distinct disadvantage, severely damaging our economy."
In a recent speech to the Bermuda Society in London, Minister Richards said, "One thing is clear, if we agree to a public register while our competitors around the world do not, we will put ourselves at a distinct competitive disadvantage, a situation that would severely damage our economy, an economy that is struggling to emerge from five consecutive years of economic contraction.
"Our position is that when the great English speaking western nations – the UK, the US and Canada — adopt public beneficial ownership registers, we will follow suit. It seems only fair that the big countries should lead by example, instead of pushing the dots out front, ahead of the pack."
Minister Richards added, "It is important to note that Bermuda has never been a jurisdiction with bank secrecy laws, despite what you might read in the media. Nothing could be further from the truth. We do, however, respect the privacy accorded to people according to British Common Law.
"We have gone out of our way to cooperate with other countries' tax authorities when it comes to sharing information on their taxpayers doing business in Bermuda."
The Minister said Bermuda has over 70 tax information exchange agreements with other countries, adding that "If you are a tax evader, a terrorist financier or a fraudster, don't use Bermuda. We don't want your business and you are not protected on our shores."
You can read the full report from the Independent here, and Minister Richards full speech in London here.
Read More About