Bermuda's Flora Duffy has been recognized in the Triathlete Magazine's Best Of 2014 Awards, with the two-time Olympian being named the "Most Impressive Crossover to Dirt."
Duffy won the XTERRA World Championship in Hawaii in October, which followed a first class season which saw her dominate the XTERRA circuit, winning titles in Utah, South Africa, Nevada, Australia and Alabama.
Speaking after she claimed the world title, Ms Duffy said, "I've dreamed of being a world champion since I was 8-years-old, so to make that dream a reality today is pretty special.
"Particularly coming from Bermuda; we don't – I think I'm the first world champion – hence why I grabbed the flag and just had so much, I guess, Bermudian pride.
"It means a lot to me to do this from Bermuda, we're a small little country and I love to represent them and put them on the map. So it's a huge day for me."
Screenshot from the Triathlete Magazine website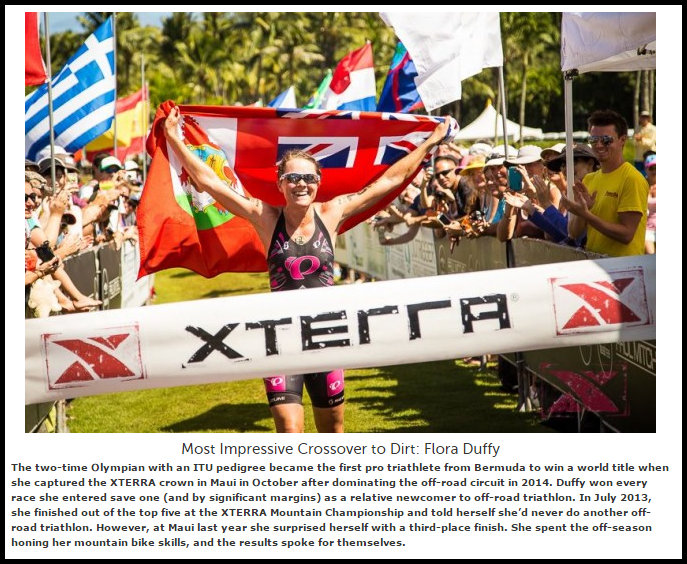 In naming Ms Duffy the "Most Impressive Crossover", Triathlete Magazine said, "The two-time Olympian with an ITU pedigree became the first pro triathlete from Bermuda to win a world title when she captured the XTERRA crown in Maui in October after dominating the off-road circuit in 2014.
"Duffy won every race she entered save one [and by significant margins] as a relative newcomer to off-road triathlon. In July 2013, she finished out of the top five at the XTERRA Mountain Championship and told herself she'd never do another off-road triathlon.
"However, at Maui last year she surprised herself with a third-place finish. She spent the off-season honing her mountain bike skills, and the results spoke for themselves."
Read More About