The Devonshire Parish Council selected four Devonshire residents to receive its annual scholarship. This is the fourth year the scholarship has been awarded, and each recipient received an award of $3,750.00.
The undergraduate recipients are Lateefah Caines, Michaela Ratteray and Kascia White, while the graduate scholarship recipient is Kejon Sampson.
Left to right: Michaela Ratteray, Lateefah Caines, Kejon Sampson, Kascia White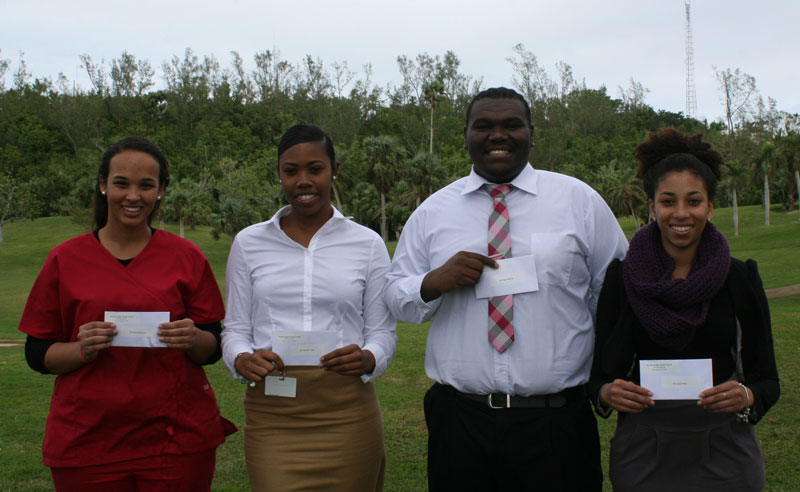 Ms. Caines is currently pursuing a Bachelor of Arts in Business Administration with a concentration in Marketing at Clark Atlanta University. She has a passion for the youth of Bermuda and hopes to work in tourism upon her return to the island.
Ms. Ratteray is a student at the University of California- Davis campus where she is studying veterinary medicine. Ms. Ratteray has volunteered at the Endsmeet Hospital and is presently with the Bermuda Veterinary Hospital. Ms. Ratteray's passion is not only for animals but also the environment, and recently kept Devonshire beautiful by organizing beach clean ups after the storms.
Mr. Sampson is currently pursuing a Masters of Architecture at Roger William University in Rhoda Island. He has been on the Deans List and is a young man who is not only passionate about design but also music. He has taught music to young people both in Bermuda as well as in Rhode Island.
Scholarship Committee member, Fabian Minors, said:"The caliber of all the applicants was very high which undoubtedly made the decision for the Committee very difficult. During the interview process, the Committee was able to meet and speak with Devonshire residents who are doing amazing things. The future of Bermuda is bright as so many young people, not only in our Parish but across the island, are to be applauded for their achievements!"
In addition to awarding the scholarship, the Devonshire Council also supported local organizations within the Devonshire Parish who have charitable aims. The organisations they supported  included the Matilda Smith Williams Rest Home, Christ Church Devonshire Benevolent Fund, First Baptist meal program, the Devonshire Recreation Club Junior Football Program,  Meals on Wheels, the Salvation Army and the Family Centre.
For more information on the Council, email devonshire.council@gmail.com or write to: PO Box DV 52, Devonshire DV BX. For application requirements for the Devonshire Parish Council Scholarship, please email dpcscholarship@gmail.com.
Read More About
Category: All