This week is National Invasive Species Awareness Week [February 22nd to 28th] and, as such, the Department of Conservation Services has highlighted some of Bermuda's most aggressive invasive species and suggested ways in which members of the public can assist the Department in their removal as they seek to ensure the prosperity of Bermuda's endemic flora and fauna.
A spokesperson said, "An invasive species is defined as any non-native [e.g. introduced] animal or plant that has the ability to spread causing damage to the environment, human economy, and/or human health.
"Invasive species are a real-world threat. In fact, the International Union for the Conservation of Nature [IUCN] has named them the biggest threat to biodiversity after habitat loss.
"The Invasive Species Specialist Group has created a list of the top 100 most invasive species on the planet [link here]; 25 of which are present on Bermuda. Examples include the Argentine ant, Brazil pepper tree, rosy wolf snail, red-eared slider and kudzu vine. Other invasive species found locally are the feral chicken, pigeon, crow, lionfish, fiddlewood, Casuarina and Schefflera – to name a few.
"Part of the work of the Department of Conservation Services involves the culling of certain invasives in order to ensure the survival of many endemic species.
"For example, Bermuda's Nonsuch Island is a 14 acre nature reserve that has been restored to a pre-colonial state, but it requires effort every year to prevent the incursion of invasive plants. In 2014 nearly 19,000 invasive plants from 13 different species [e.g. Brazil pepper tree, fiddlewood, Schefflera] were culled from the island. Whenever they clear an area of invasives, they replant with endemics."
File photo of Nonsuch Island courtesy of Bermuda Aerial Media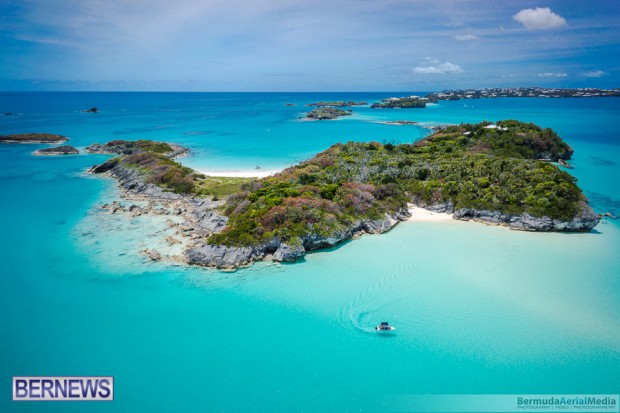 "We need to cull certain invasive species to make life easier for our native species and to make sure our endemics do not become extinct," explained Conservation Services' Wildlife Ecologist Mark Outerbridge.
"Managing certain invasives also makes life more pleasant for people too. For example, clearing Casuarinas off our beaches eliminates the prickly berries that are often stepped on and ensuring that there are no buckets, plant pots or similar containers lying around to collect water in which mosquitos breed helps to reduce the number of these biting insects.
"Bermuda is a small island, so any space or resources that are used up by invasives are now not available to our native species. For example casuarinas change the chemistry of the soil around them in ways which prevent other plants from being able to grow there.
"Casuarinas can also cause increased erosion of rocky coastal and cliff areas through their roots opening up cracks in the rock, and the levering effect of high winds causing the roots to break off large sections of rock and cliff.
"Invasive plants change habitats by taking up space, using up water and blocking the light for other plants. Animals can also change habitats in various ways. For example, rats can seriously change the makeup of woodlands by selectively eating the berries and seeds of plants like palmettos, olivewoods and the very rare Bermuda sedge. Rats also eat the eggs, young and, in some cases, even the adults of nesting seabirds such as the Bermuda cahow."
A spokesperson said, "In 2014 the Department of Conservation Services culled 7,820 feral chickens island-wide; this compares to 7,332 in 2013. In total over 22,500 feral chickens have been culled over the past 3 years. Likewise, 845 feral pigeons were culled by the Department in 2014; while 741 were culled in 2013. Additionally, 82 crows were culled in 2014; while 89 were culled in 2013.
"The Department of Conservation Services uses a Cabinet approved integrated pest management strategy for this, where their experienced technical officers assess the species and the conditions at each reported site and determine the most efficient method[s] to address the problem.
"Their methods include a variety of traps, nets, licensed shooting and use of sedative bait. The Department follows health and safety procedures designed to give the best results while minimizing risk to pets, non-target species and to the environment.
"The Department of Conservation Services offers a free public service for residents who are experiencing problems with pest birds [e.g. feral chickens, feral pigeons and crows]. The request form can be found online link here. The Department of Conservation Services also accepts unwanted pet red-eared sliders from people who no longer wish to care for them."
"Stopping things at the door should be the first step to halting the spread of invasive species," said Dr. Outerbridge. "So people need to be careful that they don't bring anything back with them from overseas. Also, if you see something in your neighbourhood or in your travels across the Island that you don't recognize take a photo and let us know – it could be a new invasive."
Other actions people can take include:
Be a responsible pet owner; don't release any unwanted pets [e.g. red-eared sliders] into the wild and spay or neuter your cats
Do not feed feral animals in sensitive areas such as parks and nature reserves
Know what you are buying when you visit the plant nursery – plant a good tree; choose a native or endemic instead of an ornamental or an invasive. Plants that produce berries that can be spread by birds should be considered carefully, many of these can become pests
Put out your trash in a can with a lid – it will stop pests like rats, crows and starlings from getting a free meal
Volunteer – you can help eradicate invasives [e.g the lionfish spearing programme] and help promote our native species.
T"he recently-launched Bermuda Plant Finder Database [www.plantfinder.bm] is an online tool which the public can use to find the plants best suited for your unique landscape and garden needs.
"Developed by the Department of Conservation Services, users can view photos, descriptions and suggested uses for hundreds of plants found in Bermuda. Users can also learn which plants are the 'Bermuda-friendly' native and endemic species and which are invasive species to avoid.
"Finally, one of the biggest threats to our marine habitat is the lionfish. The invasion of lionfish has been recognized as potentially one of the worst environmental disasters ever faced by the western Atlantic region.
Lionfish photo courtesy of Sergey Goncharov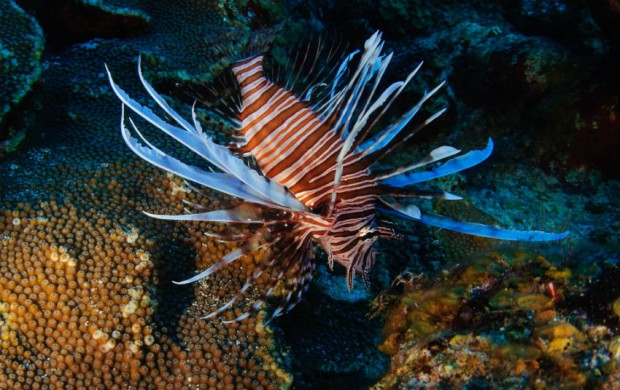 "The expansion of lionfish threatens the marine ecosystem of Bermuda's reefs, and thus its fishing and tourism industries. The presence of lionfish also presents a public health risk because of the potentially serious injuries to fishermen, divers, snorkelers, swimmers and tourists, delivered by the lionfish's venomous spines that inflict painful stings.
"There are no known natural lionfish predators in the Atlantic, so humans will have to take on that role by catching and killing them. Culling permits are obtained by participating in the Bermuda Lionfish Culling Programme.
"To enroll simply send an email to permits@oceansupport.org and the course organizers will contact you with the next course dates. To learn more about lionfish in Bermuda visit www.lionfish.bm and www.oceansupport.org
For further information or to nominate an invasive species please contact: conservation@gov.bm
Read More About
Category: All, Environment, News