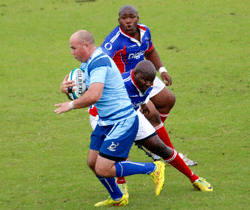 Bermuda got their 2015 North American & Caribbean Rugby Association [NACRA] Championship campaign off to a flying start as they romped to a 55 – 3 win over Turks & Caicos.
Playing at the National Sports Centre  on Saturday [Mar 7], Bermuda got 2 tries from Dan Cole and Durnferd Davis, while Paul Dobinson, Tom Healy and Roedolf van der Westhuizen all added a try each.
Bermuda secured a Cole try in the first minute, Calow missed the conversion attempt leaving the score 5 – 0.
Calow did extend Bermuda's lead to 8 – 0 four minutes later when he kicked the first of several penalties. Calow added penalties in the 13th, 23rd and 37th minutes as Bermuda took a 17 – 0 lead into the half time break.
Calow missed a penalty kick in the 29th minute, while in the 37th minute Tucks & Caicos player Bjorn Griffith was shown a Yellow Card and was sent to the Sin Bin.
In the second half, Bermuda went up 22 – 0 in the 43rd minute when Dobinson went over for a try, only to see Calow miss the conversion. Two minutes later Bermuda's dominance began to take over when Davis scored a try, with Calow's conversion attempt good to make the score 29 – 0.
In the 50th minute Turks & Caicos had another player sent to the Sin Bin, this time it was Henrik Joseph who received the Yellow Card. Healy went over for a try in the 57th minute, and when Calow kicked the conversion Bermuda's lead was 36 – 0.
In the 51st minute Davis scored his second try of the game, but the conversion was missed by Rich Cumbers. However, three minutes later it was 48 – 0 when Cole went over for a try and Calow kicked the conversion.
In the 73rd minute Turks & Caicos would get on the board when Gareth Butler kicked a penalty making the score 48 – 3, however Bermuda would add one more try and a conversion, with van der Westhuizen going over the line and Calow's kick being good making the final score 55 – 3.

Read More About