Registration for this year's Appleby Bermuda Half Marathon Derby is now open, with this year to see a change in format, because after 37 years of starting in the west, participants will now take to the start line in the east.
The new route, which has been officially measured and certified as a half marathon, will journey out of St. George's, along North Shore Road, up Middle Road/Flatt's Hill, down Lane Hill onto Front Street and into Hamilton along the standard city route, finishing at the traditional finish line in Bernard's Park.
Tyler Butterfield greets people at the finishing line on his way to winning last year's race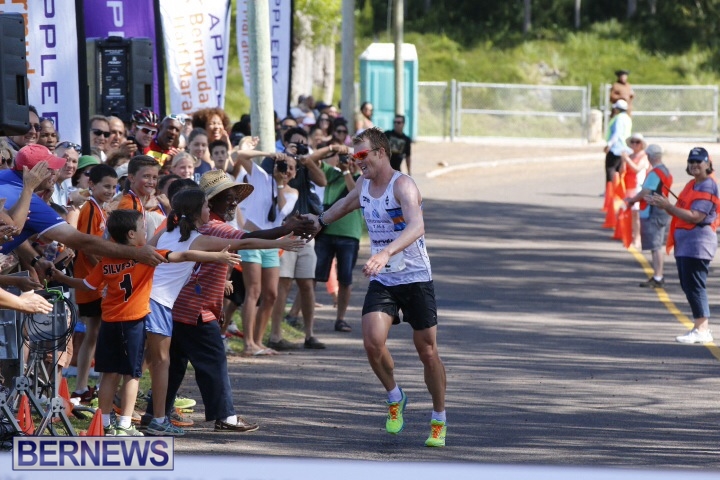 Bermuda Half Marathon Derby Committee President, Dr. Gina Tucker noted, "After many years of deliberation and countless requests from east end residents, we are excited to have the race come from the east this year."
"Most residents are unaware that the race started and/or finished in St. Georges or St. David's for many years. With exactly six weeks to the start of the annual event, folks are buzzing with great anticipation, and already, indications are that the number of individual and relay participants will increase to numbers never seen before. This change will have us reignite the tradition of having the race start in the east.
"Further, this new course out of the east will introduce a new record, gathering momentum as to which athlete will reign supreme as the first to win from both the east and west ends of the island.
Dr Tucker added, "Coinciding with the annual Cup Match tradition, the route will alternate starting in the east and west providing a new challenge for our participants while also giving east-end residents the opportunity to enjoy watching the race from their back yards."
This year, the half marathon will celebrate its 11th anniversary of Appleby's title sponsorship of the race recognizing a financial contribution that totals approximately $380,000. In 2013, Appleby committed to an additional 5-year sponsorship commitment through 2017.
Dr. Tucker stated, "The success of this event would not have been possible without the unwavering support of Appleby as they have provided significant financial and volunteer support over the past 11 years. Thank you Appleby."
Registration forms are now available at Sportseller in the lower level of the Washington Mall beginning Monday 6 April. Or, for those who prefer to register online please go here beginning Monday 6 April. Hard copy registration deadline is Friday 15 May, while online registration deadline is Friday 22 May. Final entry and number collection is at Number Pick-Up to be held Saturday 23 May at Appleby [Church Street entrance].
For the latest information on this year's event, and complete registration details, visit their website.
Read More About