Governor George Ferguson spent time on the front lawn of Government House on Saturday afternoon [Apr 25] for The Duke of Edinburgh's Award's [DofE] first annual Expedition Relay Challenge and Community Fun Day, even taking a turn on the mobile zip line recently brought to Bermuda by Twilight Entertainment.
A spokesperson said, "The Governor serves as Patron for the Award in Bermuda. He and Mrs. Fergusson have always shown their full support for this phenomenal youth development programme, and Mr. Fergusson joined the Award's Chairman, Andrew Parsons, in taking a leap of faith from a 35-foot tower for a ride down Bermuda's newest attraction for thrill-seekers – the mobile zip line.
"Thanks to Endurance Specialty Insurance Ltd. for their title sponsorship of this event.
"The inaugural Expedition Relay Challenge and Community Fun Day was open to the public and free of charge for all who attended, the same as how the Award programme in Bermuda is available for free to all young people who wish to participate."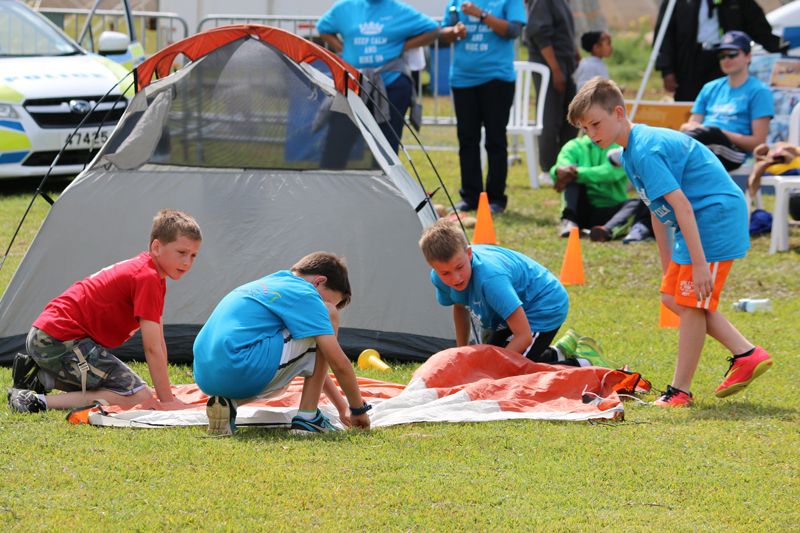 "This DofE signature event included community partnerships with the Bermuda Police Service, St. John's Ambulance, PRIDE Bermuda, SCARS, Phenomenal People and the DREAM Girls Club, which is a small example of how DofE participants touch all aspects of our community and work with nearly every service provider in Bermuda through activities of their choosing.
"The event includes a FUN-Raising component that runs through 15th May with part-proceeds to be shared with the Bermuda Triathlon Association.
"Twenty-eight teams participated in the short and entertaining relay races. Mimicking the requirements of a real DofE Adventurous Journey, teams racing in the relay worked in groups of four to navigate their route through the course, pony hopped between circuit stations as a whimsical twist on their mode of transport, pulled together to correctly erect a tent for their shelter, and packed a rucksack to carry all of the necessary equipment for an Adventurous Journey."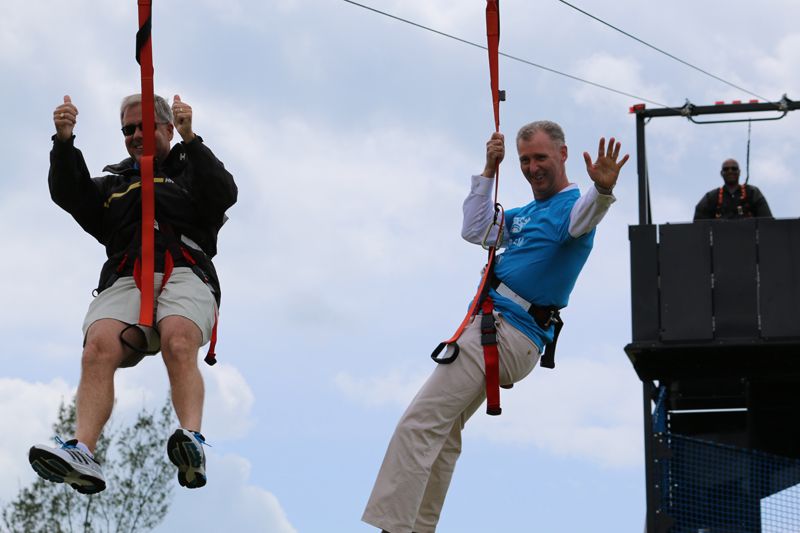 "Relay races were limited to ten minute intervals, and the team taking top prize for successfully completing the Expedition Relay Challenge in the shortest time of 6 minutes 48 seconds was the Bermuda Police Service Cadets [Team One].
"Second and third place teams were "The Champions" and "Bermy Crew", both from Whitney Institute Middle School. Teams from Tri-Headz, Bermuda Scouts, Saltus Grammar School, The Berkeley Institute, Mount Saint Agnes Academy, Bermuda High School, Victory Christian Academy, Argus Insurance, Phenomenal People and the DREAM Girls Club participated in the relay races as well."
"Proceeds from this and other signature DofE annual FUN-Raising events benefit the personal and professional development of hundreds of young people across the island. It costs the Award an average of $400 per participant to deliver the full programme on an annual basis.
"However, in Bermuda, unlike most other countries, the Award is available for no charge to any young person who wishes to participate. The programme is free and funds raised by hosting these special events ensure that the Award remains to be a free youth development opportunity in Bermuda."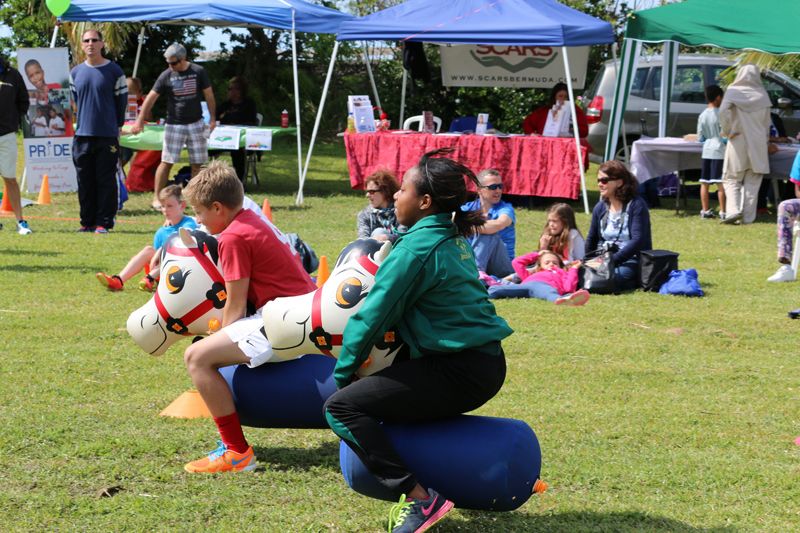 "All fundraising proceeds for DofE directly enhance programme delivery and expansion initiatives, and keeps the programme running free of charge. Participation benefits are life changing and the impact of DofE is recognizable throughout our local community, as well as globally.
"Expedition Relay Teams have been raising pledges in support of the Duke of Edinburgh's International Award
Bermuda and Bermuda Triathlon Association. Pledge sheets will remain active until 15th May and we encourage everyone to make a pledge and show your support for the well-rounded development of Bermuda's young people.
"On behalf of The Duke of Edinburgh's International Award Bermuda and the Bermuda Triathlon Association, we would like to thank the community for their support of this event."
"Get involved and make a difference; contact us for additional information regarding community partnerships, volunteer opportunities, or participation for young people ages 12 – 15."

Read More About
Category: All, Entertainment