The Bermuda National Trust Teacher Resource Guides have been made freely available through a partnership with the Ministry of Education, Bermuda National Trust and Axis Capital Holdings Limited.
The Bermuda National Trust in collaboration with Axis Capital Holdings Limited and the Bermuda Ministry of Education are pleased to launch twelve new Teacher Resource Guides with information and activities that link directly to the International Cambridge Curriculum and the Ministry of Education's Social Studies Curriculum.
"These guides will support Bermuda's teachers in their delivery of relevant and meaningful education. With funds from Axis Capital Holdings Limited the team at the Trust were able to develop these comprehensive guides and engage Fluent, a professional design company, to produce fabulous new resources that are easy to follow, full of illustrations and activities and available to all for free.
Minister of Education Wayne Scott said, "The Ministry of Education has reviewed all of the resource guides and is excited to have such a comprehensive teaching tool for our educators and our children. These guides will provide teachers with the resources they will need in school and on field trips to the various locations. It is an excellent guide and fits well with our curriculum.
"We are most appreciative to the Bermuda National Trust and Axis Capital Holdings Ltd. for producing these educational guides. I would like to thank Jonathan Howes, CEO Bermuda Press Holdings Ltd., and Bermuda Press Digital for their donation of printed resource guides which will be provided to each of our public schools."
Five guides feature open spaces; Spittal Pond Nature Reserve, Sherwin Nature Reserve including Warwick Pond, Paget Marsh, Somerset Long Bay East Nature Reserve and Vesey Nature Reserve. The guides begin with the history and ongoing conservation efforts for each site. Attractively designed maps show bodies of water and habitats; while diagrams show a cross-section of the underlying geology for each area.
Conservation and development zones are presented in an easy to follow format, one that teachers can copy from the guide and use in lessons. Colourful images identify key species of plants and animals that inhabit these spaces and each guide provides the reader a helpful overview before they visit the site. The guides compliment teaching related to the environment, plants, animals, habitats, food chains and ecosystems as well as landforms, quarrying and the formation of caves.
Left to right - William White, President, Bermuda National Trust; Minister Scott; Albert Benchimol, CEO & President of AXIS Capital Holdings Limited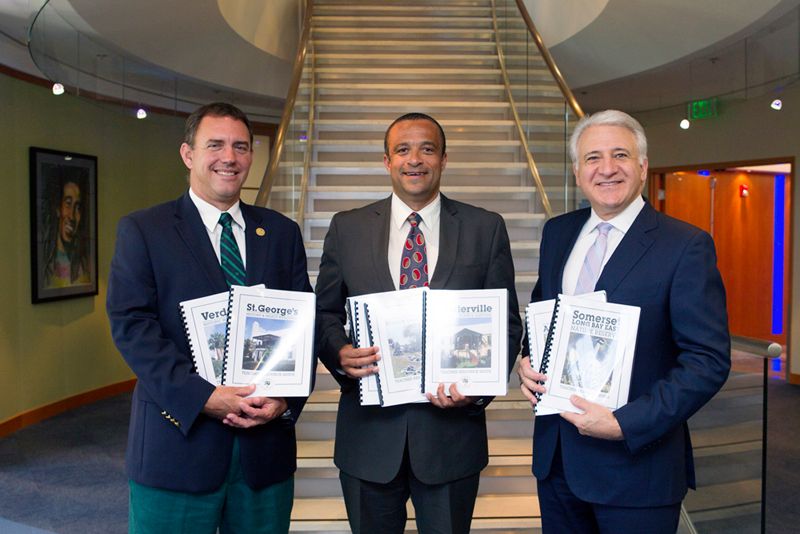 Four guides highlight historical properties; Waterville House and Gardens in Paget, Verdmont Historic House and Garden in Smith's, Historic Tucker House, and The Bermuda National Trust Museum at the Globe Hotel in St. George's. These 18th century buildings have a fascinating story to tell, from early ship building, the conquests of privateering and Bermuda's involvement in the American Civil War right up to the dawn of tourism.
Images highlight collections of 18th century furniture and artefacts that would have been a part of daily life during this period as well as the portraits of those who lived in these wonderfully cared for properties. A common theme throughout the historical guides is a focus on Bermudian architecture, from palmetto shelters to limestone dwellings and key individuals who influenced our history.
Three additional guides feature the town of St. George's highlighting significant structures in our UNESCO World Heritage Site and an overview of the early history of Bermuda. An 'Introduction to Archaeology in Bermuda' highlights archaeological excavations that have taught us about the way we lived in the early years of settlement and Bermuda's Historic Cemeteries tell fascinating stories about the impact of Yellow Fever and the Military in the 19th and 20th centuries with activities that focus on the growth and development of Bermuda.
Each guide begins with a description of the Trust's 'Three-Part Learning' experiences which include a pre and post classroom lesson in conjunction with a field trip. The pre lesson helps to set the stage for learning, assessing what students know about the concepts that will be covered, while the post lesson is a review of what occurred during the field trip. Activities provided within the Three-Part Learning are fun and engaging and geared for each grade level.
Teacher Resource Guides include a comprehensive list of activities that teachers can use with their students before and after their field trip experiences. Each activity has a recommended grade level and can be modified for different learning abilities.
Left to right - Jonathan Howes, CEO Bermuda Press Holdings Ltd., and Bermuda Press Digital;  William White, President, Bermuda National Trust; Jennifer Gray, Executive Director, Bermuda National Trust; Minister of Education Wayne Scott; Albert Benchimol, CEO & President of AXIS Capital Holdings Limited; Mrs. Lisa Marshall, Ministry Education Officer/Social Studies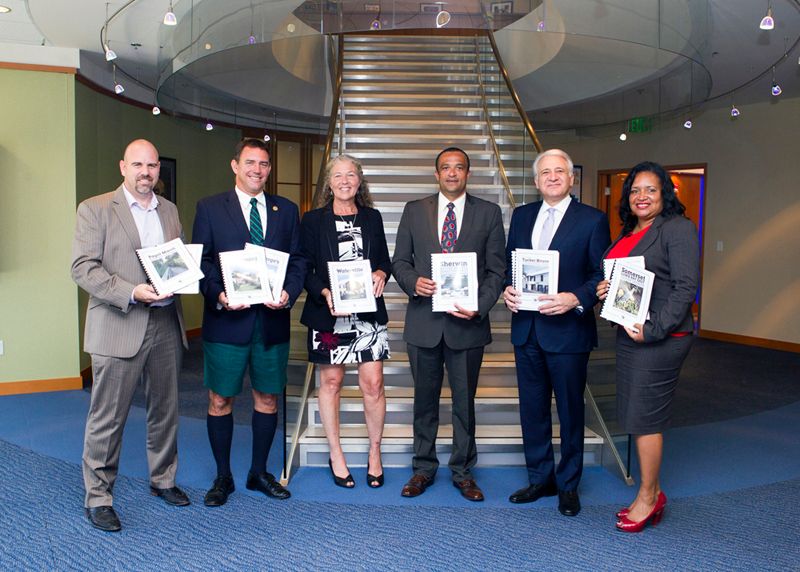 Albert Benchimol, CEO & President of AXIS Capital Holdings Limited said "We are very pleased to have supported the creation and development of the Teacher Resource Guides which have been used in the Bermuda National Trust AXIS Education Programs. We are delighted that the guides will continue to enrich the lives of even more students now that they will be used by the Ministry of Education.
"Furthermore, we are certain that the teachers along with the students will have fun and learn so much about Bermuda's history, flora and fauna. I congratulate the staff and volunteers of the Bermuda National Trust for having worked so diligently in creating these resource guides and making them available as a free online download for all to enjoy the educational experience the guides have to offer."
All guides are available as a free online download from the Bermuda National Trust's website www.bnt.bm and the Ministry of Education website www.moed.bm
Teachers can email the National Trust Education team at education@bnt.bm for information about their 'Three-Part Learning' educational experiences as well as Teacher Workshops that can be held at their perspective school or in our Axis Education Classroom at Waterville in Paget.
Jennifer Gray, Executive Director, Bermuda National Trust noted "These resource guides are a fine example of what can be accomplished through public and private partnerships. It is so important that our children learn about their own history and environment such that they can excel in school and become effective leaders and ambassadors of our beautiful island home.
"Our education team did a superb job compiling information and activities relevant to Bermuda's built and natural heritage and the curriculum. The Trust is ever grateful for the tremendous support from Axis Capital Holdings Limited and the Ministry of Education in seeing this project to completion and we hope that everyone will use the guides to learn a little more and enjoy a little more of what Bermuda has to offer".
"The Trusts experiential learning programme supports students in acquiring knowledge both inside and especially outside the classroom. We engage children in critical thinking, problem solving and decision making in environments that are relevant to them. This approach to learning also involves creating opportunities for questioning and merging of ideas and skills through feedback, reflection, and the application of the ideas and skills to new situations.
"Our programme engages students, teachers and adults in creative and authentic settings while learning about Bermuda's natural and cultural heritage. We are making it easier for children to learn and excel and easier for teachers to communicate accurate, locally relevant materials by providing these valuable resources to schools across the island".

Read More About