The Christian Education Department Leadership Institute is getting set to present the 'Bermuda Conference — East West District' at the Allen Temple AME Church on Sound View Road in Sandys on May 31 from 9.30am to 3.00pm.
The workshop will be lead by Rev. Lorne Bean—Pastor, Dr. Glenn Bascome, and Rev. Cyril Simmons—Pastor.
In the first workshop, lead by Rev. Lorne Bean—Pastor, attendees "will find out what God has to say and be prepared to stand on His Word."
A spokesperson said, "What does Scripture have to say about the ethical issues of our day? Can 21st century man set their own rules concerning abortion, euthanasia, abuse, racism or exploitation?"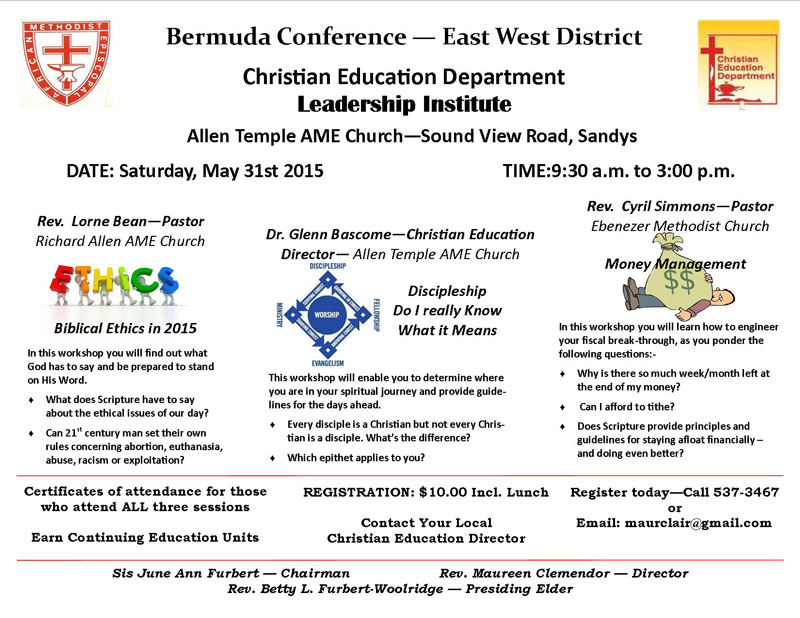 The second workshop, titled 'Discipleship: Do I Really Know What it Means?,' will be lead by Dr. Glenn Bascome.
"This workshop will enable you to determine where you are in your spiritual journey and provide guidelines for the days ahead. Every disciple is a Christian but not every Christian is a disciple. What's the difference? Which epithet applies to you?"
The third workshop, focusing on money management, will be lead by Rev. Cyril Simmons—Pastor.
"In this workshop you will learn how to engineer your fiscal breakthrough, as you ponder why is there so much week/month left at the end of my money? Can I afford to tithe? Does Scripture provide principles and guidelines for staying afloat financially – and doing even better?"
Registration for the event costs $10, including lunch; registration can be done through local Christian Education Directors or by calling 537-3467 or emailing maurclair@gmail.com. Certificates of attendance will be issued for those who attend all three sessions.

Read More About
Category: All