Plans to improve the facilities at Shelly Bay Beach are taking shape, with structural improvements to the building and the reopening of a restaurant and water sports rental outlet on the agenda.
"Plans are taking shape to improve beach facilities at Shelly Bay Beach, the Ministry of Public Works and the Bermuda Tourism Authority [BTA] said jointly today," a spokesperson said.
"Plans involve quick fixes for the immediate future, while additional plans are taking shape to permanently improve the public beach experience in the coming months for residents and visitors alike.
"In the short term, after consultation with the Department of Health, Department of Parks has arranged for portable toilets to be installed at Shelly Bay Beach ahead of the upcoming long holiday weekend to commemorate Heroes Day.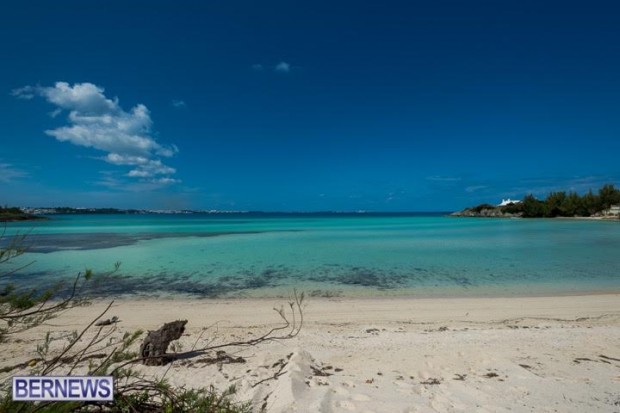 "Parks officials placed two portaloos at Shelly Bay Beach Wednesday. They are located near the original restrooms under the beach house, and will be on site until the permanent restrooms are renovated and repaired."
"The Ministry of Public Works is more than happy to assist in ensuring that this beach facility has appropriate facilities in time for the holiday and for the summer season," said Minister of Public Works Craig Cannonier.
"Meantime, the BTA is working with Bermudian entrepreneur Tom Steinhoff to vastly improve the beach facilities at Shelly Bay Beach on a permanent basis," the statement added.
"Government approvals have been granted to permit structural improvements to the building, the reopening of a restaurant and water sport rentals. Improvement plans also include reopening permanent restrooms for the public's use, in partnership with the Ministry of Public Works.
"This is an excellent example of how an improved tourism product can improve quality of experience for visitors and, by extension, enhance quality of life for Bermuda residents," said Pat Phillip-Fairn, the BTA's chief product and experiences development officer.
"We've helped to empower an entrepreneur who will inject capital into a beach facility that has been derelict for many years. Soon there will be a quality concession for the public beach at Shelly Bay that all of Hamilton Parish can use and be proud of; while at the same time, the BTA can confidently put Shelly Bay on the radars of visitors – particularly vacation renters who may have accommodations in the area."
"Mr Steinhoff was a successful applicant in the Tourism Experiences investment process last year, managed by the BTA's Product and Experiences division.
"The process seeks to provide funds for home-grown ideas as part of a coordinated strategy to improve the overall tourism product. BTA investments were also made last year to improve the beach experience at Tobacco Bay.
"The BTA, the Ministry of Public Works and the Ministry of Tourism Development and Transport are working collaboratively to enhance the island's public beaches."
Read More About