PHC will be hosting their "Showoff" event tomorrow [June 27], with the entertainment extravaganza and fun day set to featuring a wide array of entertainment and family fun.
A spokesperson said, "The Pembroke Hamilton Club [PHC] Majorettes & Drum Corps of Bermuda is a family youth organization that promotes performing arts in Bermuda through baton twirling and drumming. We focus on the development of the whole child through our program which is run throughout the months of January to June and September to December each year.
"As a charity and one of the last majorette groups left on the island, we must be very creative in the ways in which we plan our fundraising events given the level of competition that currently exists due to challenges in our current economic climate.
"Therefore, we have decided to host an Entertainment Extravaganza and Fun Day called "Showoff" on June 27th, 2015 from 1pm to 7pm, which aims to not only expose our youth in various performing arts programs, but to also promote the level of entertainment that exists in Bermuda.
"For the event, we are offering door prizes and will host various obstacle races for the community to get involved in for the day while entertainers from all over the island arrive for a performance ready to blow your mind!
"It is our hope that hosting this fundraising event will bring awareness to the arts and programmes that continue to operate for our community, despite the financial challenges faced on a regular basis.
"Showoff will give performers the ability to show off their talents, visitors and residents alike the chance to discover the talent on our island, and all the ability to honor and celebrate those persons who continue to teach and promote performing arts in our community."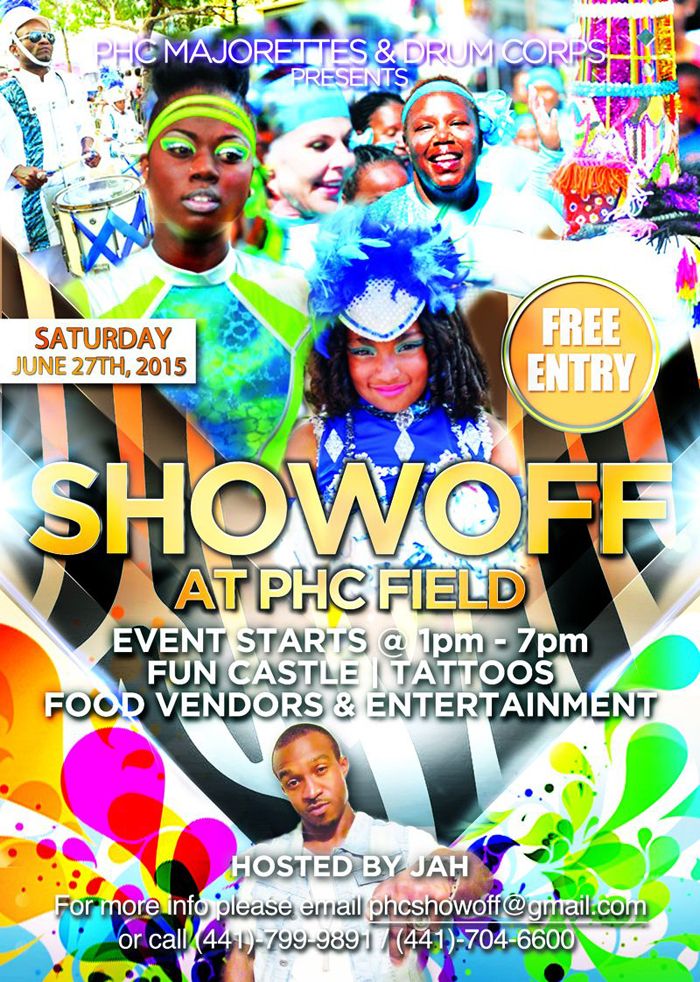 Starting at 1.00pm, there will have performances by:
The Bermuda African Dance Company 1:45
Anointed Dance Ministry School 2:00
Raymon Clarke 2:15
Obstacle Race – Kids 2:45
Big Snipes 3:15
Sui Generis Dance Team 3:30
Drum Major Competition 3:45
For God's Purpose 4:00
In Motion 4:15
Global Link 4:30
Bda Donquili African Dance Group 4:45
Bermuda Squad Entertainers 5:30
Obstacle Race – Adults 5:45
Places Gombeys 6:00
Th Ex-Artillery Majorettes 6:30
Rated E 6:45
Gombey Warriors 7:00
PHCMDC 7:15
Vendors at the event will be:
BermySnow
Children's Bubbles & Light Up Toys
Dazzle Bug
FaceTyme
Four Star Pizza
FunTyme Funcastles
Hot Dog Delight
Jazzy Treats
Mae'Z Apparel
Mirrors
PHC Under 10s Football Team
PHCMDC [Baked Goods, Novelties, and Registration for Fall term]
Revive Boutik
Scribbles Body Art
Sensational Delights
Sweet Freeze
SweetStixx Team
Read More About
Category: All, Entertainment, Music