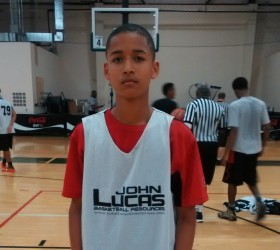 Bermuda's youth national basketball teams are in Pennsylvania taking part in a four day exposure camp at Slippery Rock University, with one of the team members honoured for his performance after the first day of competition.
Team Bermuda has 13 players in attendance in the junior division, which includes players from ages 13 to 15; overall, the camp has roughly 80 players in this division from all parts of the eastern United States and Canada.
Following his two-game performance in front of fans, coaches, and scouts, Caelin Peters of Mount Saint Agnes Academy was named most outstanding junior division player.
A spokesperson said, "The games were live streamed online and the commentators were high on Caelin the entire game. At one point in the first game, Caelin drove to the basket, leaving a defender in his tracks. After he was fouled, sending him to the free throw line, the commentators proclaimed, 'He really likes to shake and bake.'
"At another point in the game they continued, 'He can really see the whole floor well.'
"Caelin has led his team, UConn, in both scoring and assists in both of his games on the first day of camp. In his second game on court two, Caelin scored 30 points, with 18 coming in the first half.
"This included four three pointers and several drives to the basket, including one drive where he completed a dazzling spin move which left his coach shaking his head in surprise."
In the post-game interview on PA Sports Live, Caelin said of his preparation, "We went to Wolfpack Camp just before we came here, where we played two games a day as practice for this camp. Throughout the year we have a programme called Wolfpack Elite, and I also played up in the men's league so I could improve my skills."
"What Caelin was referring to was the CellOne Island Basketball League, where he and several of the BBYF's other up and coming players "played up" versus men and women, sometimes twice or three times their own age. In fact, Caelin was named the Most Valuable player of the CIBL at twelve years of age and is no stranger to playing up.
"In the fall, Caelin became the first player in Mount Saint Agnes school history to play for the Varsity High School team as a middle school player. In the BSSF interscholastic playoffs, Caelin averaged 23.3 points per game, along with eight assists.
Other notable performers from the streaming event in the Junior Division included Kobie Reid, Sam Fox, and Jermayne Dears, who were all mentioned in the streaming event.

Read More About