The Bermuda team continued its dominance in Ynys Mon during the gymnastics portion of the Island Games, winning 17 medals in the second round of competition.
On Saturday, July 25th, the team of 14 girls and boys took the floor against Isle of Man, Jersey, Aland, Cayman, Gotland, Shetland Islands, and Ynys Mon in the FIG meet, performing their highest level skills on each event.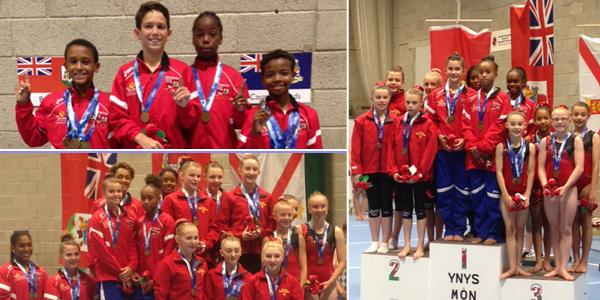 The junior team of Anna Francoeur, Chantae Wilson, T'aja Williams, and Jezhari Talbot started the day off with Wilson winning gold on floor [13.5] and bronze in the all-around [43.95].
Anna Francoeur took the silver on Beam [12.1] and the bronze on Bars [11.85]. Talbot and Williams had solid all-around performances, with their highest scores coming on Floor [11.15-8th and 10.0-12th, respectively].
Next up was the senior group of Sydney Mason, Gabby Vincent, Tabytha Hofheins, Zantae Dill, Danielle Wall, and Gianna Webbe. In a competitive field of 40 gymnasts, Bermuda took the gold on 2 events: Mason on Floor [13.1] and Vincent on Bars [9.9].
Mason earned the silver in the all-around [45.55] while Hofheins grabbed a bronze on Beam [11.8]. Dill was just out of the medals on Beam [10.9 - 4th], while Wall was Bermuda's top vaulter, earning 5th with a 12.3. Webbe, in her first major senior competition, showed a solid bar routine for 9th place [7.85].
The squad of Taj Lowery, Max Blakeney, Jaden Malpas, and Niyan Outerbridge finished off the day for Bermuda with a most impressive performance in the junior boys competition. Lowery and Blakeney continued their dominance, winning 4 out of the 6 individual events and finishing 1-2 in the all-around.
Lowery won High Bar [10.35], and earned silvers on Floor [11.5] and Pommels [10.9], plus a bronze on Rings [10.5], on his way to be crowned all-around champion [65.4]. Max Blakeney was close behind, earning the silver in the all-around [63.54], plus the gold on Vault [11.5], Parallel Bars [11.6] and Rings [10.7]. Outerbridge had his top finish of Floor [10.9 - 6th], and Malpas vaulted his way to a strong score of 10.3 [9th].
"I couldn't be more proud of the efforts that Team Bermuda put forth in preparation for these Games, from the parent fundraising to the actual practice time in the gym," Head Coach Duke Nelligan said.
"We not only showed our growing confidence and skill but won the hearts of everyone at the Games. My most special moment was when our fans and gymnasts sang the Bermudian National Anthem during the medal presentation. I wished Bermuda could have seen us; we stood tall and proud!"
The team returns to the island on this evening [July 27] and will turn its attention to preparing for the 2015-2016 season.
Read More About