Soul Food Promotions' first ever Back 2 School Community Jam is set to be held on Saturday, September 5, with fun planned for children and families at the Parsons Road park and playground from 2.00pm through 7.00pm.
Organizer Lynwood 'Brotha Richie' Richardson said, "There is going to be a lot of fun, action, and love as we are calling families, friends and loved ones to gather for what we hope to be the best back to school event just before most schools go back in on Tuesday the 8th.
"There will be free hot dogs, hamburgers, chicken legs, and mac 'n cheese provided by Fish 'n Tings and Jamaican Grill, thirst quenching refreshments supplied by both Barritt's and Dunkley's and Jazzy Treats, and lots of water donated by other entrepreneurs and individuals in the community.
"With this being a back to school event, Kenneth Richardson and I have also been collecting resources to buy school supplies for kids that are in need, and we will also be giving away gym bags, water bottles from Clarien Bank and CableVision, and gift certificates from local businesses, like Shannons Mens Clothing, Mystique's Unique, and Hose's Fashions.
"There have been a number of barbers that have volunteered to offer free basic haircuts for students in need of a clean up for the first day of school. The Sunshine Company have shown their support by donating $50 gift certificates to participating barbers, to purchase barber supplies as a thank you for playing their part in giving back to the community."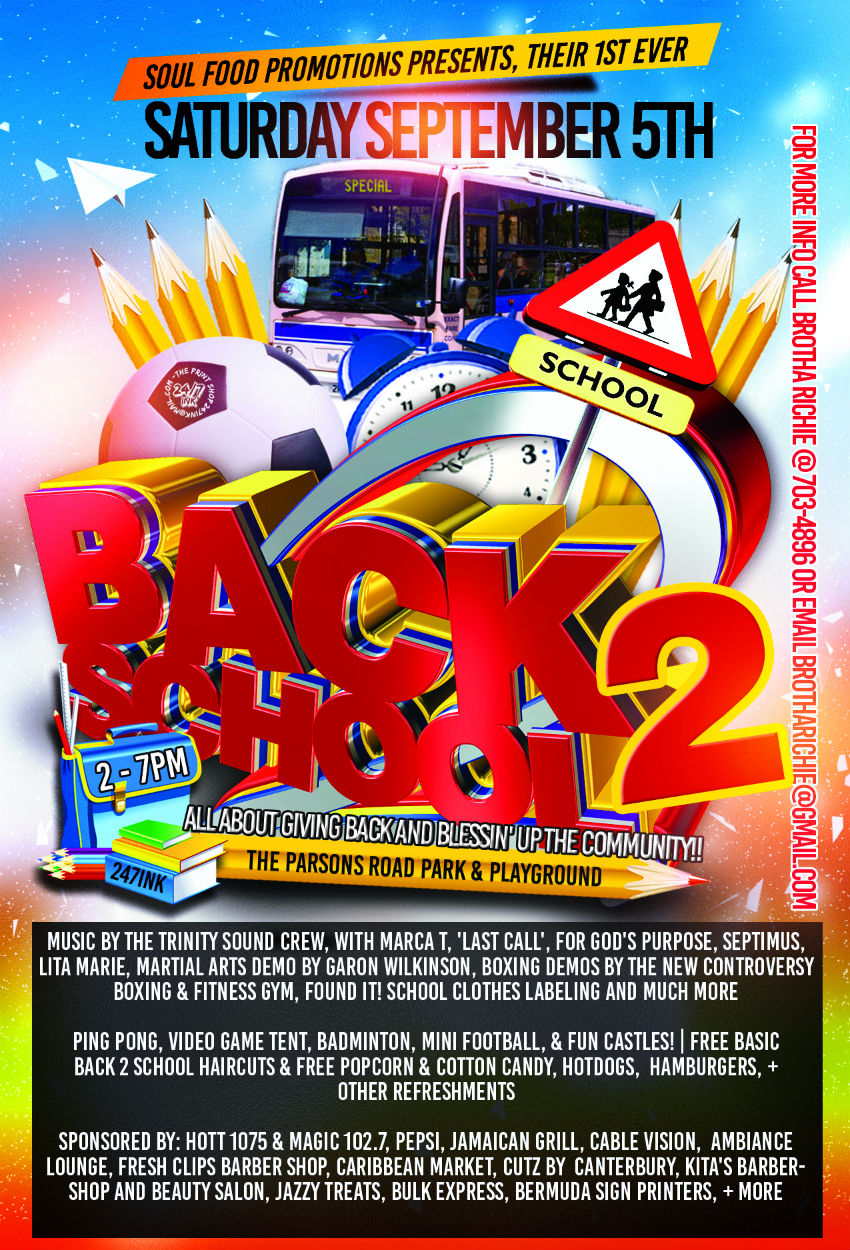 "The Back 2 School Community Jam will also have a fun castle, bouncy boxing ring, sumo suits, the Soul Food Promotions Mobile Video Game Tent with Playstations and X-Box 360s, Archery Tag with Xtreme Entertainment, 2 outdoor ping pong tables, 6-a-side football, badminton and volleyball, a martial arts tent with boxing demos by The New Controversy Boxing and Fitness Gym, Garon Wilkinson and the Bermuda Sanshou Association, and Kai Yun Shaolin Academy.
"One of the highlights of the day will be the free concert featuring acts like For God's Purpose, Marca T, Josian Maybury, Hype Type, Anointed Steps Dance Ministry School, Septimus, Shanai Jones, Lita Marie, Last Call [Adrian Jones & Tricray Astwood], Geneman, J-Silva, and more. Power Girl will be MCing this segment, due to kick off at 5.00pm.
"This has not been an easy task to pull together, but definitely a worthwhile one, seeing various segments of the community pitching in to make this a success. I would also like to thank Hott 1075 and MAGIC 102.7 for their support in helping us to promote this community building initiative as well.
"This may turn into an annual event, and what I believe is the first time that the Parsons Road Playground and Park location has been the venue for something of this nature on this level, and hopefully not the last. If there are individuals out there that want to join us and contribute to the cause they can contact Brotha Richie at 703-4896 or 293-3156 or email brotharichie@gmail.com.
"As long as we have food to grill up we will be giving it away until the end of the event."
Read More About
Category: All, Entertainment