[Updated with video + statements. BFRS confirm that the person involved in the original collision was extracted from the vehicle using the 'jaws of life,' and four firefighters were struck by a motorist that was not involved in the initial collision. All four firefighters received medical attention at the hospital and were released.]
At sometime around 4.00am this morning [Aug 22] there was a collision in the Harrington Sound Road area which appears to have resulted in one person being injured.
Details are sketchy, however it appears the original collision involved just the car, however a motorcyclist then came through the area and apparently collided with the collision scene and emergency personnel. Further details are limited at this time, however we will update as able.
As of this writing [5.55am] the road remains blocked off.
Update 6.40am: A tow truck has removed the car, and the road has re-opened to traffic, and the Bermuda Fire & Rescue Service has confirmed that while attending to the collision scene, four firefighters were struck by a motorist that was not involved in the initial accident.
Update 7.35am: Video added below of tow truck removing the car.
Update 7.44am: A police spokesperson said, "Around 3:55am this morning [August 22nd 2015] first responders attended the scene of a single vehicle road traffic collision, which occurred along Harrington Sound Road Hamilton Parish near the junction with Wilkinson Avenue.
"It was reported that a man travelling in an easterly direction in his motorcar lost control of the vehicle and collided with a utility pole.
"While EMT's from the BFRS were attempting to extract the man from the vehicle, another man on a motorcycle also travelling east came into contact with the motorcar involved in the initial collision.
"The motorcycle rider was uninjured however the man driving the car was transported to KEHM where at last check he was being treated for leg and hip injuries."
Update 8.09am: Fire Service spokesperson Acting Lieutenant Jamal Albuoy said, "One male patient involved in the RTC was extricated from the vehicle with the use of our extrication equipment, commonly referred to as the 'jaws of life'.
"While BFRS personnel were in the process of packaging the patient for transport to the hospital, two motorist not involved in the original accident struck our four personnel.
"Two Firefighters complained of neck and back pain, while the remaining two Firefighters sustained minor injuries; none of which is considered life threatening. The patient in the original accident was transported to the hospital via an ambulance from KEMH.
"All our personnel received medical attention at the hospital and were released. The rider of the motorcycle was dealt with by the Bermuda Police Service who was present at the scene."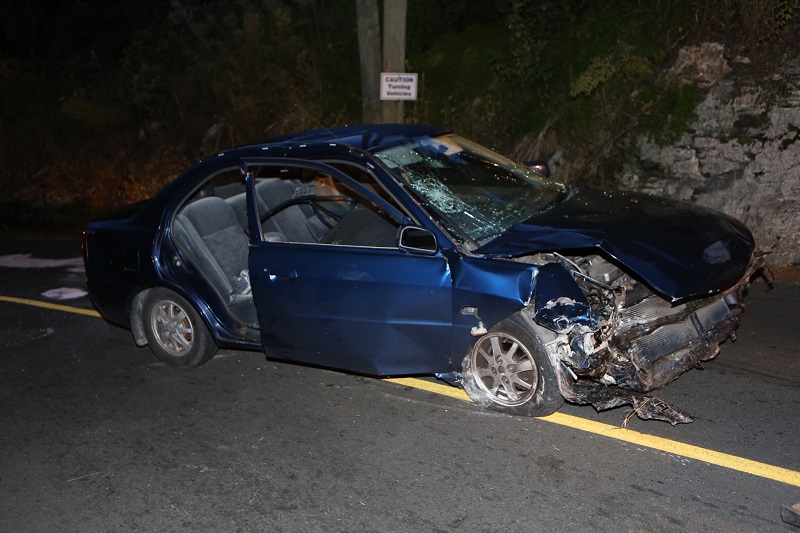 Read More About
Category: Accidents and fires, All, News