In recognition of its 28 years of service to the local community and Jamaica, the Executive of the Jamaican Association Bermuda [JAB], under the distinguished patronage of Professor Roy Wright and Senator Joan Dillas-Wright, will be hosting its 2nd Life Members' Induction and Awards Banquet.
The JAB said, "This event will take place on Saturday, 12th September, 2015 at the Hamilton Princess Hotel beginning at 8:00 p.m., under the theme "Celebrating the Past, Embracing the Future".
"The JAB Life Members' Induction and Awards Banquet will recognize individuals and organizations who have been instrumental in the continued success of the Jamaican Association [Bermuda].
"These include our dedicated members who have given tireless, voluntary service, our cricketers, athletes and our committed sponsors who have consistently supported us.
"The awards are categorized reflecting the Jamaican heritage as follows: Life Time Achievement Award, The Lignum Vitae Award, The Doctor Bird Award, The Blue Mahoe Award and Honorable Mention Award.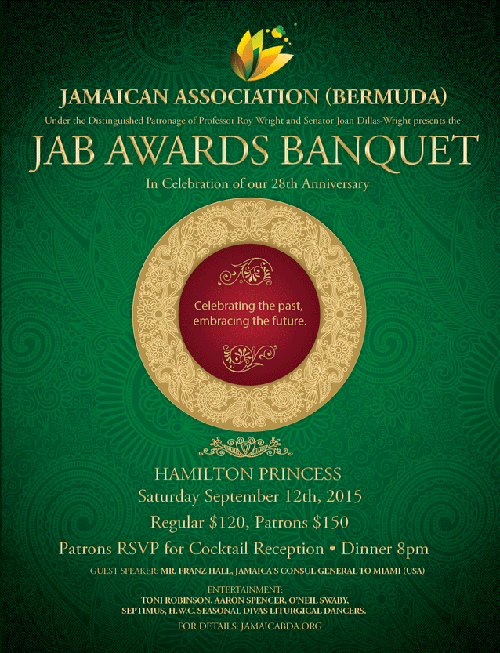 "This formal event will have in attendance Keynote Speaker Ambassador Franz Hall, Jamaica's Consul General to Miami, USA. Entertainment will consist of performances by Toni Robinson, Aaron Spencer, O'Neil Swaby, Septimus and the Heritage Worship Centre Seasonal Divas Liturgical Dancers.
"The event will begin with a cocktail reception at 6:30 p.m. This reception is reserved for invited guests, awardees and patron ticket holders. The Banquet will commence at 8 p.m. and open to all attendees. The buffet dinner will include a Jamaican-style cuisine of fish, beef, chicken and starch.
"Tickets for the event are currently on sale at a price of $150 for Patron and $120 for regular. They can be purchased from Fish n Tings, Jamaican Grill, the Money Shop and from the JAB.
"Deadline for purchasing patron tickets is Friday August 28th, 2015. Patron ticket holders are included in a special tier of honor wherein their names will be printed in our programme booklet. All tickets will be entered into a raffle for chances to win various prizes.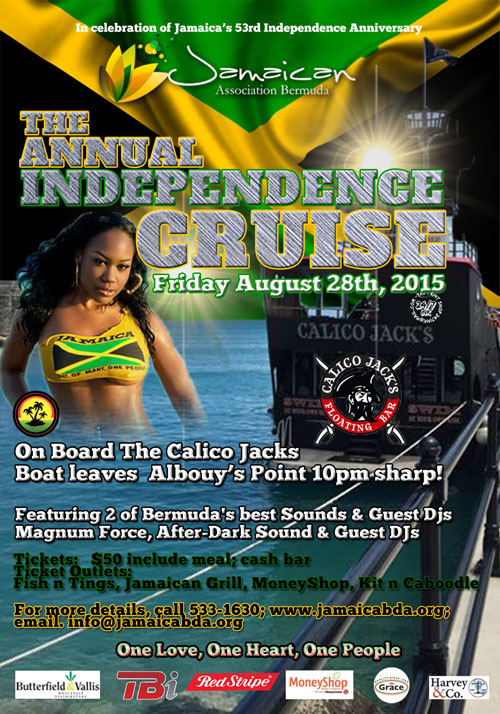 "Preceding the Banquet, the JAB will be sailing its Annual Independence Cruise in celebration of Jamaica's 53rd Independence Anniversary on Friday August 28th, 2015. The cruise will be aboard the Calico Jack, sailing from Albouy's Point at 10 p.m. sharp and ending at 2 a.m.
"Music is being provided by Magnum Force and Afterdark Sound with guest DJs and Artistes. Ticket price is $50 inclusive of a meal. Cash bar is open to all in attendance. Tickets are available at Fish n Tings, Jamaican Grill, Money Shop, Kit n Caboodle and from the JAB members.
"All persons are welcome to join us for these two events as we celebrate and honor our members and sponsors and for our 53rd Independence Anniversary celebrations.
"For further detail, please visit our website at www.jamaicabda.org or contact the JAB at 291-4192, 533-1630, via email at info@jamaicabda.org or jamaicanassociationofbermuda@gmail.com."
Read More About
Category: All, Entertainment