[Opinion column written by MP Rolfe Commissiong]
"One side represents heavens glory; the other, ruins abyss," - Author unknown
Certainly, the proposal to open the flood gates of immigration by Minister Fahy and his One Bermuda Alliance Government to allow unprecedented numbers of largely white long terms residents to obtain status has hardened the political and yes; racial divide that was already exacerbated by the razor thin result delivered by the electorate in 2012.
But let's not be under any illusion, this divide has existed in our society for some time as was repeatedly mentioned during the debate in the House of Assembly on the 4th of March and in terms of the protest that unfolded on the grounds of the House earlier in the day.
Video showing some of the protest on March 4th:
The principled and moral stand taken by those Bermudians who have indulged in civil resistance and/or disobedience needs to be commended; rather than condemned, predicated as it has been upon the unquenchable quest for social, economic and racial justice in Bermuda.
Having said that it is tool that should not be burnished frivolously or else it loses its moral force. Yet, in this case, I do believe that it has met its historical moment.
The Government says that its decision to grant status thousands of long term residents is a human rights issue; yet growing numbers of Bermudians are not fooled.
They know that removing thousands of long term residents from immigration control of one sort or another means that at a time of continued economic insecurity they and their children will bear the brunt of this decision for decades to come.
And on the political front, the consequences are even more troubling.
In the House I raised the issue that throughout our modern political history whites voters who having been born overseas and having achieved status –with precious few exceptions – have voted en mass with white Bermudians firstly for the United Bermuda Party and now the OBA.
The white electorate or base of the One Bermuda Party, I believe comprises at least 85 to 90 per cent of that base although according to two former UBP leaders those figures may be too high. They contend that the white voting base of the party– as was the case in the UBP – probably represents about 80 to 85 per cent of their overall vote.
The key question which I sought to answer however was, do white voters overall in Bermuda vote as a monolith far exceeding that of black voters? And the answer is yes.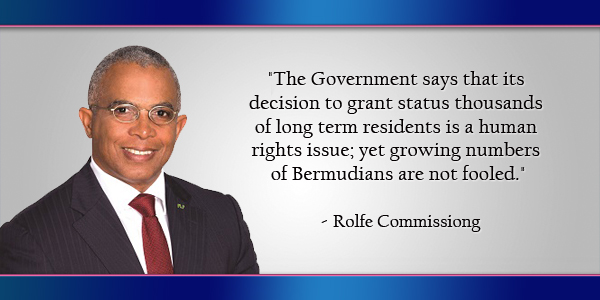 In terms of white voting support for the UBP and now the OBA, pre-election polls going back for a number of decades, along with proprietary data now held by both party's do confirm that white voters do vote monolithically, with about 97 to 98 per cent of whites voters historically voting for the then UBP and now its successor party the OBA.
Since the election of 1968, which ushered in modern constitutional politics under universal adult suffrage and spanning almost a full half century, white voting behavior – save for the brave 2 to 3 per cent on average who do vote PLP – has largely not changed.
And remember, close to half of those white voters have been foreign born over the period under consideration. Census statistics support my claim.
The Government, led by Minister Fahy on this issue of course, would ask us – much like investment firms – to believe that past performance is no guarantee of future outcomes.
They are asking us to suspend belief and embrace the view that these soon to be newly minted largely white status holders [approx. 77 per cent ]will behave from a political and even economic standpoint differently than did previous waves of enfranchised white migrants, during the post WWII era.
Black Bermudians who were marginalized politically and economically by these aforementioned racist immigration trends and their small but growing number of white allies are not buying it and neither should they.
The new manta is: Caveat Emptor or buyer beware.
As previously highlighted in a self-penned op ed that was published prior to the last election, Mike Winfield, currently of the ACBDA [America's Cup Bermuda] and former UBP campaign manager during the Sir John Swan years summed it up succinctly at a public forum which explored the connection between race and politics in Bermuda.
Winfield told the assembled then, at the Elbow Beach event that the formula for electoral success when it came to the UBP was fairly simple. Keep the whites on the political reservation [not hard to do apparently] while going after the black so-called middle class vote.
Unfortunately, decades later, the same formula is still a reality and continues to hinder our growth and thus our ability to evolve into a more mature democratic polity as I stated on Friday.
And with the rejection by the Government of MP Walton Brown's motion to move the whole issue to a joint select committee in order to achieve a bi-partisan consensus on the issue, the prospect that the ruinous abyss looms, as I alluded to above has not been abated.
- Rolfe Commissiong

20 Most Recent Opinion Columns

Opinion columns reflect the views of the writer, and not those of Bernews Ltd. To submit an Opinion Column/Letter to the Editor, please email info@bernews.com. Bernews welcomes submissions, and while there are no length restrictions, all columns must be signed by the writer's real name.
-
Read More About