The 20th annual Bermuda Sand Sculpture Competition took place today [Sept 5] at Horseshoe Bay Beach, with a wide array of examples of sand art on display for spectators and sculptors alike to enjoy, with prizes being awarded for sand sculptors in various categories. The results are below.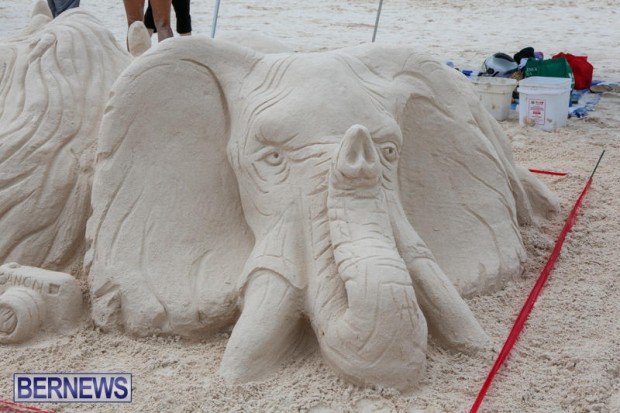 Children category:
1st place: Mermaid – Mila Calko
2nd place: Minions – Jacob Seymour, Henry Seymour, Giada Dudley, & Lilla Dudley
Teenagers category:
1st place : Lighthouse – Adriana Anfossi
2nd place: Dragon – Melanie Soares' Chan, Hailey Dill, & Shannon Dill
Open category:
1st place : Maid'n the Sea – Tara Cassidy; Diana Cassidy, & Dennis Cassidy
2nd place: O'Ship – Rosheena, Joshua Simoes, Aric Wilson, Kori Jackman.
3rd place: Not Waving but Drowning – Ani Douglas, Asha Galloway, Tavin Smith, Michael Walsh.
Family Category:
1st place : Wild Things – Patrick, Cheryl, Elsie, Monty Hastings
2nd place: Lyin On the Beach: Rebecca, Andrew, Curtis & Stuart
3rd place: Butterflies: Zina Edwards, Ayesha Lake, Dawn Furbert, Walter Bell & Roseann Edwards.
Tourist category:
Bermuda Treasures – Charles and Devon Nelson
Overall Winner:
Treasures Not Trophies – Hannah Emmerson & Mikal Thomas.
.
Director of Youth, Sport and Recreation Norbert Simons previously said, "The Bermuda Sand Sculpture competition started 20 years ago by the Institute of Bermuda Architects and is spearheaded by Ms. Nicky Gurret. This event has grown in participation and has proven to be a very popular weekend of fun for everyone."
Click to enlarge photos:


Read More About
Category: All, Entertainment, News, Photos