The City of Hamilton and the Bermuda Tourism Authority [BTA] invite the public to an October 12th "prep rally" to get the Island fired up for the Louis Vuitton America's Cup World Series.
"The high-profile, international sailing event will thrust Bermuda onto the world stage with sailing race action airing on NBC Sports Network in the United States and other territories around the world," the BTA said.
"We're calling it a prep rally because we want everyone to feel fully prepared for what's coming, ready to roll out the red carpet and ready to show off the amazingly warm hospitality Bermuda is famous for," said BTA CEO Bill Hanbury. "We're excited to unveil Bermuda to a new generation of travellers."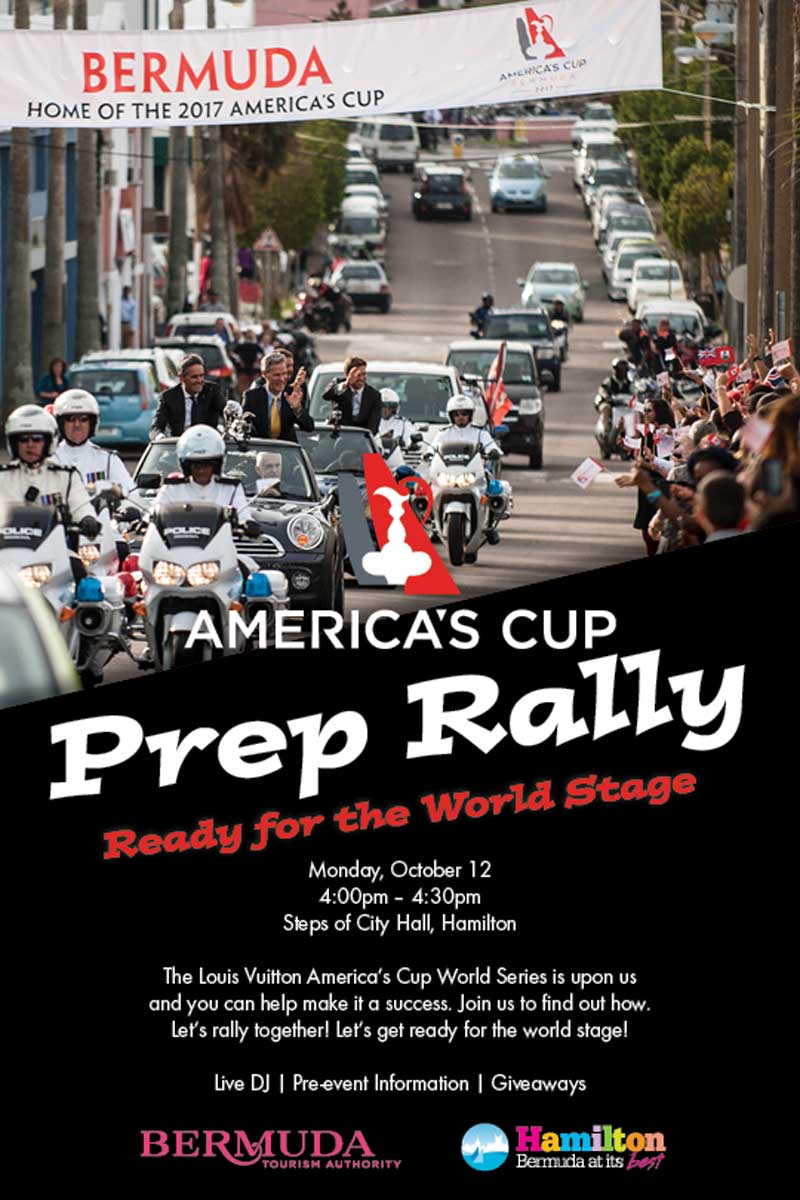 Hamilton's Mayor Charles Gosling said: "The City of Hamilton is thrilled to play host to the America's Cup Event Village in less than two weeks. Bermuda's beautiful capital city will be front and centre on the world stage and the exposure for Bermuda on a global scale will be immeasurable.
"Next week's rally will serve to inform, excite and encourage all Bermudians to come and play our part in this very special experience, one which will showcase our island paradise at its best."
The BTA added, "Although the primary focus is on preparing persons on the frontline of the visitor experience – like transport, hotel, restaurant and retail workers – the entire public is welcome to attend the rally on the steps of City Hall. School children are also welcome. The event is called "America's Cup Prep Rally: Ready for the World Stage" and is being hosted jointly by the City of Hamilton and the Bermuda Tourism Authority.
"Bermuda-based America's Cup sponsors and partners have been invited to participate in the rally and many have enthusiastically accepted the invitation and plan to bring their staff.
"Appleby, Butterfield Bank, Butterfield & Vallis, Gosling's, Hamilton Princess and PwC are among the brands that are already planning to send contingents to the rally. Staff from the America's Cup Event Authority and America's Cup Bermuda are also expected to participate.
"A live DJ, giveaways and a celebration of local vendors participating in the "Our Bermuda" Festival and Event Village are planned. Local performers from the America's Cup Jam presented by Fidelity have been requested to play a role as well. Important pre-event details will be shared with the crowd.
"The America's Cup Prep Rally: Ready for the World Stage" will take place October 12, 2015 from 4:00 pm to 4:30 pm.
"The Bermuda Tourism Authority is an official partner of the America's Cup and requests people attending the rally use #RaceToBermuda on social media to share their excitement with visitors coming to Bermuda for the Louis Vuitton America's Cup World Series October 16th – 18th."

Read More About
Category: All, Entertainment, News