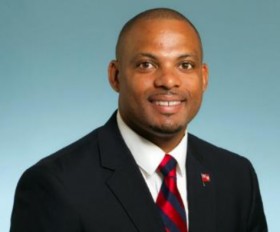 [Opinion column written by MP Jason Hayward]
The recently released Gross Domestic Product [GDP] report highlighted that for the second consecutive year Bermuda has had positive economic performance. Additionally, the GDP for the 1st and 2nd Quarters of 2019 also trended in a positive direction.
GDP is the principal measure of economic performance. It captures the value of goods and services produced within Bermuda during a specified period. Simply put, if GDP increases it means that our economy is growing and when GDP declines our economy contracts.
It is important to note that Bermuda's top 3 industrial sectors are International Business Activity, Real Estate Activities, and Financial and Insurance Activities.
International Business Activities is the top industrial section, representing 25.1% of our total economic activity, while Real Estate Activities and Financial and Insurance Activities represent 14.7% and 14.1% respectively.
Our economy has 19 industrial sections, the above three industrial sections collectively making up 53.9% of our total economy. Their contribution to GDP is larger than the remaining 16 industrial sections combined. The three top industrial sections all recorded economic growth according to the latest GDP report.
International business is the current lifeblood of Bermuda's economy and will continue to be for the foreseeable future. The slogan used by the international business community "international business is everyone's business" should remind us all that drives our economy. The direct, indirect and induced effect of International Business on economic growth and employment income is unmatched by any other industrial section.
Recently there has been much talk about the performance of the retail sector. It is misleading at best to for individuals to use the performance of retail establishments as a measure for the Country's overall economic performance.
The Construction and Quarrying industrial sector had the greatest individual contribution to overall growth. However, it was the Country's ability to export more services than we imported that was collectively the biggest contributor to Bermuda's economic growth. In 2018 Bermuda's net export of goods and services increased in current prices by roughly $110 million over the net position recorded in 2017.
The recently released Tourism Satellite Account [TSA] report highlighted that if tourism was an industrial sector it would be our economy's fifth largest and it demonstrated positive economic performance. The growth anticipated in this area is welcomed as the direct, indirect and induced contribution of tourism equates to 4,832 jobs in our economy.
Despite the narrative of Bermuda being in economic decline that some aim to paint, the data supports that Bermuda's economy is not in decline and there is no recession. It also serves no meaningful purpose for others to continue to preach the falsehoods of doom and gloom.
While the numbers speak for themselves, the numbers will provide small comfort for those who are still unemployed, underemployed or given up hope of ever finding a job in their own country. We know that if even one Bermudian has not felt the impact of the growth in our economy, our work is not completed.
We are fighting for a living wage because we believe that no Bermudian should work a full-time job and still struggle to cover basic necessities. We are fighting for affordable healthcare because Bermudians today pay too much, receive too little and our collective health is too poor for the status quo to remain unchallenged.
Through the implementation of legislation and policies, we will continue to keep our election promise to take steps to improve the lives of Bermudians and create a better and fairer Bermuda.
- Jason Hayward

20 Most Recent Opinion Columns

Opinion columns reflect the views of the writer, and not those of Bernews Ltd. To submit an Opinion Column/Letter to the Editor, please email info@bernews.com. Bernews welcomes submissions, and while there are no length restrictions, all columns must be signed by the writer's real name.
-
Read More About