[Opinion column written by BPSU President Jason Hayward]
One of the fundamental roles of Government is to look out for the welfare of its people and provide social safety nets that prevents Bermudians from falling through the cracks.
In my 2016 Labour Day address, I proposed that the Bermuda Government strengthen the social welfare benefits offered to its citizens.
Some may view my calls as socialist rhetoric that is past its sell-by-date. I contend that those with this perspective may be regressive in their thinking. Let's agree that Socialism is dead. Traditional social welfare has improved the socio-economic conditions of many.
Despite its successes, this approach has increasingly come under attack with concerns being expressed about sustainability. The effectiveness of traditional social welfare has also been called into question with the perpetual cycle of dependency that some persons have resigned themselves to, often overshadowing the success stories of such policies.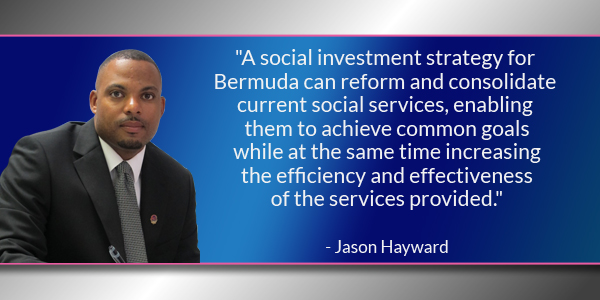 Social Investment is a balance between social and economic goals. The European Commission describes social investment as follows: "Social investment is about investing in people. It means policies designed to strengthen people's skills and capacities and support them to participate fully in employment and social life. Key policy areas include education, quality childcare, healthcare, training, job-search assistance and rehabilitation."
These policies are designed to be proactive rather than reactive and emphasize building capacity by investing in citizens as a method to solve unemployment. Social investment produces policies that are stimuli to economic growth and development, and challenge the neoliberal view that social policies are a cost hindrance to achieving economic growth and development.
In February 2013, the European Commission adopted its Social Investment Package [SIP]; an integrated policy framework which takes account of the social, economic and budgetary divergences between its member states which:
Guides EU countries in using their social budgets more efficiently and effectively to ensure adequate and sustainable social protection;
Seeks to strengthen people's current and future capacities, and improve their opportunities to participate in society and the labour market;
Focuses on integrated packages of benefits and services that help people throughout their lives and achieve lasting positive social outcomes;
Stresses prevention rather than cure, by reducing the need for benefits. That way, when people do need support, society can afford to help;
Calls for investing in children and young people to increase their opportunities in life.
Social investment policies provides targeted intervention at critical stages in a person's life which translate into economic and social returns. This approach to unemployment empowers people from a state of poverty and dependency through targeted social policies which seek to capacity-build, while at the same time protect people when they are vulnerable.
Social investment can serve to be that bridge between those that support social welfare and the proponents against social welfare policies. We should all be able to agree to social spending that supports the development of people and their ability to participate in the labour market.
Bermuda currently provides a level of social services to its citizens, however, these services often work in silos and do not operate with a common strategy.
A social investment strategy for Bermuda can reform and consolidate current social services, enabling them to achieve common goals while at the same time increasing the efficiency and effectiveness of the services provided.
- Jason Hayward

20 Most Recent Opinion Columns

Opinion columns reflect the views of the writer, and not those of Bernews Ltd. To submit an Opinion Column/Letter to the Editor, please email info@bernews.com. Bernews welcomes submissions, and while there are no length restrictions, all columns must be signed by the writer's real name.
-
Read More About