Following the announcement from "Preserve Marriage" that they will be hosting a public demonstration on Tuesday [Feb 9] at the Cabinet Grounds, the "Love Wins" movement is asking people who "support human rights for all" to also attend the Cabinet Grounds at the same time.
"Preserve Marriage" — the group behind the petition opposing same sex marriage — held a press conference recently where they asked "the public that is for marriage to remain between a man and a woman to come out to a peaceful demonstration" on the Cabinet Grounds on Tuesday, February 9 at 12.00pm.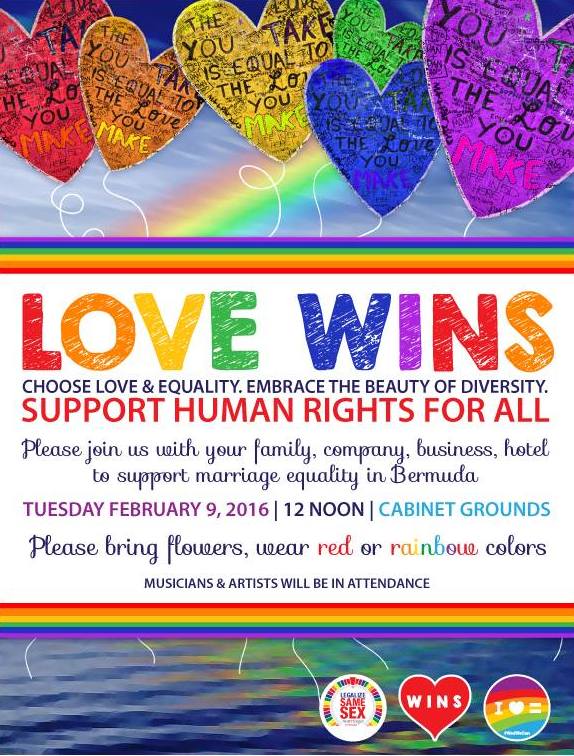 The "Love Wins" event page on social media said, "The group Preserve Marriage in Bermuda is hosting a protest against civil unions at Cabinet grounds on Tuesday, Feb 9 at noon.
"This isn't really a formal 'hosted event' but a general awareness for anyone in support of equal rights who may want to come and represent the other side of their protest.
"While we fundamentally do disagree with their stance on marriage, the intention is not to bring negativity or reaction with picket signs or arguments but rather to show that marriage equality is something that is supported in Bermuda."
"It's been asked how we will differentiate ourselves from PM [Preserve Marriage] – obviously we don't want to get confused! The idea that's been thrown around is for everyone to wear bright colours!"

Read More About