[Opinion column written by the Minister of Home Affairs Michael Fahy]
One of those who commented on my recent article about Bermuda's coming demographic crisis suggested that to be better understood, I should speak more from my heart than my head.
I understand what he or she meant, but this is a world full of facts, and at this point in Bermuda's history, some of the facts we face are not pleasant. All of us have to do what we can to try to make a constructive response to those facts, whether in our personal lives or, in my case, the lives of those I am in public office to help.
From my heart, let me say this: the actions I take as Minister of Home Affairs are all designed to make life better for Bermudians. That's what I do. I have three born Bermudian children and my brother has two. How absurd would it be for me to want to jeopardize their futures, never mind anyone else's?
This difficult job is made more difficult, sometimes, by critics who want to deal with all our problems emotionally, without bothering to face the facts at all. Or, sometimes, by critics who are prepared to make things up in order to do little more than gain some political advantage by opposing what the Government does.
Mr Walton Brown, the the Progressive Labour Party MP who has been rallying protesters against the Ministry's Pathways to Status plan seems to fall into both those categories.
In his campaign, he has been prepared to sacrifice the comfort of ordinary, innocent citizens by such means as the East Broadway demonstration or trampling on the dignity of the House of Assembly. What he thinks he is accomplishing isn't clear to me – we all know what his opinion is, and the opinions of those who support him. He has made it clear that he feels there can be no real immigration reform without independence.
On social media, he has posted a series of claims about citizenship that he presents as facts. His claims are not facts. They are his opinions, and some of them are just plain wrong.
He claims, for example, that all countries have quotas for the grant of citizenship, by which I guess he means we should do the same thing here. He's wrong. The grant of citizenship in nearly every country, like ours, is simply a matter of law, and those countries feel that it would be wrong to treat one qualified applicant any differently than another. Some countries do use quotas – and perhaps this is what he is thinking of – for skilled migration programmes, such as the US Green Card or the UK Tier-1 and Tier-2 visas.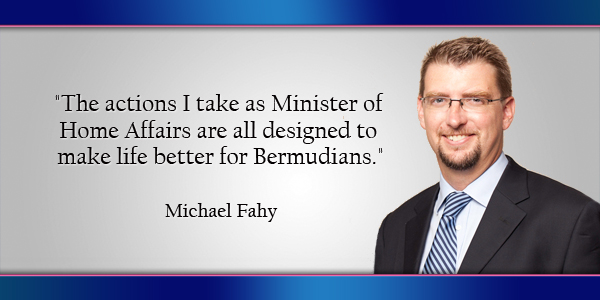 He says the OBA focus is not to ensure Bermudians can gain quality jobs in their own country. Wrong. The Ministry of Home Affairs has put in place a substantial and well-known programme to make sure that people can be trained or retrained to fill jobs in the economy, to require employers to be more careful about the process of hiring, and that information about jobs is much more easily available to job-seekers than once it was.
We are light years ahead of the past government in terms of enforcing our immigrations laws. We've increased the penalties greatly, and under this Government, people are just not going to get away with thumbing their noses at the law any more. At the end of last year, the Immigration Compliance section was processing 87 cases of immigration violations. Those 87 ongoing cases could result in fines of up to $1 million.
Mr Brown says Pathways is discriminatory under the Constitution because it will result in more whites getting status than blacks. Any lawyer would tell you that that is completely wrong. The Plan allows all people living here for a certain time to apply for status regardless of race, as the Constitution demands.
Mr Brown says that the only vehicle for securing PRC status today is through the Job Makers Act, which applies to senior executives in the private sector.
Actually, the Job Makers Act was introduced in 2011 by the PLP. It's a very small group of senior executives… we deal with perhaps nine or ten a year. They can get PRC after 10 years. Pathways, which involves a wait of 20 years, deals not with executives but ordinary folk, from the top to the bottom of the demographic scale.
Mr Brown seems to be telling us that he approves the status quo, which favours executives, but disapproves giving Pathways status to less affluent people from the Caribbean and the Azores. Under our Pathways proposal everyone is treated equally. The numbers involved every year will be low and far more racially balanced than quotas, which would involve a cumbersome points process.
The last one of these points of his that I will deal with is his contention that dealing with Pathways as we have done is divisive, and that we should have more dialogue with those who oppose us.
I'd like to make two points. The first is that Pathways is much less divisive than he says. Every poll or survey done in Bermuda has shown the majority are in favour of granting status to long-term residents. His firm is the only one whose survey has measured that support at less than 70%. His poll was conducted in 2000 – Bermudian opinion has shifted significantly in the time since.
I have made considerable efforts to engage the Opposition in dialogue about immigration matters. Mr Brown tries, but has never seemed able to bring his party to the table. They obviously prefer a strategy of drawing red lines in the sand and telling me not to cross them. The tactics of Mr Brown's campaign against Pathways have the same flavour – his idea of engagement really comes down to me simply agreeing to do what he says.
Let's face it – Mr Brown's thinking about this issue may well be affected by the frustration he feels with his own party at the moment. People must be puzzled, as am I, by the way his views on the human rights issue of same sex marriage seem so at odds with his views on the issue of equal rights for long term residents.
Pathways is the right thing to do. I know it in my head, and I know it in my heart.
- Michael Fahy

20 Most Recent Opinion Columns

Opinion columns reflect the views of the writer, and not those of Bernews Ltd. To submit an Opinion Column/Letter to the Editor, please email info@bernews.com. Bernews welcomes submissions, and while there are no length restrictions, all columns must be signed by the writer's real name.
-

Read More About