[Opinion column written by Attorney-General Trevor Moniz]
By now, most Bermudians will be aware of the Government's proposals to provide new pathways to permanent residency and to status. These proposals are aimed squarely at bringing Bermuda in line with baseline international standards established not just in international law but also in competing small island-jurisdictions such as Anguilla, the Caymans and BVI.
There have been some concerns about Government's "Pathways" proposal expressed in recent days. My genuine belief is that this is the right thing do, and I am certain that Bermudians of all backgrounds share this view. Bermudians have always been a compassionate group of people; sometimes it is easy to forget that the loudest voices are not necessarily the most widely-shared views.
In the early 1990s, I ran on the issue of the plight of long-term residents with no prospect of obtaining Bermudian status after the status grant system we had in place in the 1980s was abolished. Those legislative changes led to much fear and concern amongst a segment of Bermuda's residents who had long called Bermuda home.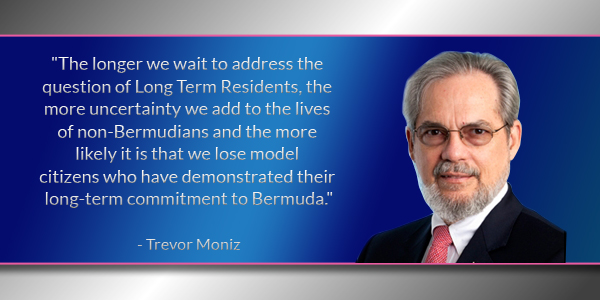 Partly as a result of my advocacy, Government then introduced a pathway to status for non-Bermudians born in Bermuda or who arrived here before their 6th birthday. This was another 'stop gap' approach to immigration reform, and another moratorium on status was put in place for 1989 with applications to be made before 2008. All the same, those enactments came into force in 1994 and represented a vast improvement on the status quo, and there were no quotas.
In 1997, the UBP Government then introduced the 'Working Resident's Certificate' which was a grant of semi-permanent residency to long-term residents conditional upon retaining their job.
Soon after the PLP came to power, the then Minister of Home Affairs, the Hon Paula Cox put out proposals by Government to introduce a Permanent Residents Certificate. A group of concerned citizens formed the 'Coalition on Long Term Residents' which advocated for full Bermudian status for all Long-Term Residents.
This Coalition included Foster Burke, Shurnett Caines and Judith Swan, representing the West Indian community, and Eddy DeMello, Robert Pires and myself, representing the Portuguese community. It was the case then, and it continues to be the case today, that Long Term Residents represent the cultural mosaic that is modern-day Bermuda.
Minister Cox held a series of meetings in 2000 and 2001. Unfortunately, those meetings involved expressions of strong emotion against extending rights to Long Term Residents. However, it was our belief then that these sentiments did not represent the mainstream views of Bermudians. Our belief was then confirmed when Walton Brown's polling firm tested the views of Bermudians in 2000: 50.6 % of islanders felt that long-term residents should be granted status, 42.9 % were against, while 6.5 % were undecided.
Walton Brown stated at the time that the poll was strongly reflective of Bermudians' opinion and that its size of 403 respondents was a great number in Bermuda to work with and predict trends. I agree.
I believe that a majority of Bermudians has always supported granting Long Term Residents a pathway to status. This was confirmed recently. A poll conducted in 2014 showed that 57% supported granting permanent residents Bermudian Status, 33% were opposed, while 9% were undecided. 404 people participated in that poll which is basically the same sample size as in 2000. Another poll in 2015 showed a significant majority of 69.5% in favour of granting Bermudian status to long term residents who have been in Bermuda for 25 years or more. 24.8% were opposed and 5.7% were unsure.
In addition, a recent Bernews poll, based on 1715 responses, showed 75% in favour of Government's proposed 'Pathways to Status'. The Royal Gazette shows 69% in support based on 6713 responses. These are clearly unscientific polls, but they nonetheless confirm the trends shown in the scientific polls: support for 'pathways' has trended upwards over time, while opposition has trended downwards. No political party has ever polled as high as 'Pathways'!
The PLP also recognizes these trends. Their position in 2001 was that 'Pathways' to status for Long Term Residents would only be provided on Bermuda becoming independent. Today, they concede the need for immigration reform right now, and implicitly, the need for granting permanent residency and status.
To his credit, Opposition Leader, the Hon Marc Bean said in his 2014 Reply to the Throne Speech that a future PLP Government would  "address the issue of Bermuda status grants–how they are to be granted going forward and what criteria need to be met; what number of PRCs should be issued on an annual basis." Such a policy would address "equal political status for individuals in a family rather than the current circumstance where one sibling could hold Bermuda status and the other have no rights at all to permanent residence."
I remind everyone of Government's Throne Speech commitment from 2013:
"In order to conform to human rights obligations under the European Convention on Human Rights, the Government will move forward with amendments to the Bermuda Immigration and Protection Act 1956 to provide pathways to Bermuda status for persons born in Bermuda or persons who have been adopted by Bermudian parents."
Various decisions of the Immigration Appeal Tribunal and the Supreme Court case of Carne and Correia necessitated an expansion of our approach.
There is clearly some difference between the two main political parties on the question of Pathways. This is natural, and healthy dialogue is the cornerstone of democracy. At the end of the day, however, the OBA was elected to govern Bermuda in 2012. As such, it is the Government's prerogative to propose laws, and it will be the Legislature's prerogative to consider and scrutinize those laws.
The longer we wait to address the question of Long Term Residents, the more uncertainty we add to the lives of non-Bermudians and the more likely it is that we lose model citizens who have demonstrated their long-term commitment to Bermuda.
As I said, Bermudians are fundamentally compassionate. We are not as divided on the question of 'Pathways' as some commentators might have us believe. This was true in 1992. This was true in 2000. This was true in 2014. This is true today. And this will be true well into the future.
Let's do the right thing.
- Attorney General Trevor Moniz

20 Most Recent Opinion Columns

Opinion columns reflect the views of the writer, and not those of Bernews Ltd. To submit an Opinion Column/Letter to the Editor, please email info@bernews.com. Bernews welcomes submissions, and while there are no length restrictions, all columns must be signed by the writer's real name.
-

Read More About