[Opinion column written by the Minister of Home Affairs Michael Fahy]
Since I announced this Government's plans for the 'Pathways to Status' initiative earlier this month, I have been approached by many people who all had the same [or very similar] question – that question being, "What's in this for Bermuda?" or, "How will this benefit the economy and, more directly, me?" So, in this column, I will aim to speak exclusively to that topic.
This is the right thing to do; there is no question about that – providing stability and support to individuals who have served our community and helped it flourish for many, many years is long overdue – but our intentions regarding Pathways to Status are, admittedly, not solely altruistic. In truth, there is much to be gained for our island by enacting the proposed Legislative changes under Pathways to Status.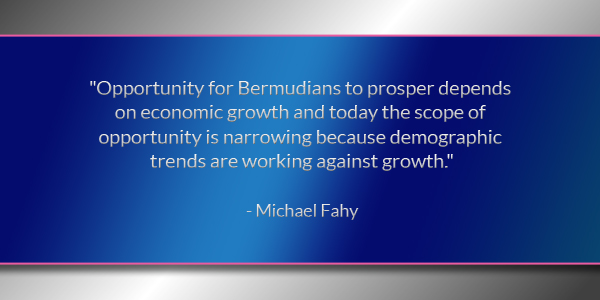 As the Finance Minister said in this year's budget statement, opportunity for Bermudians to prosper depends on economic growth and today the scope of opportunity is narrowing because demographic trends are working against growth.
Put simply, the more people who are resident on the Island, the stronger certain aspects of our economy will be [such as GDP, Retail Sales, Capital Expenditure and the size of the workforce] and hence the greater the scope for personal opportunity.
And, in this regard, Bermuda has two things working against it – a decreasing birth rate and an aging population of baby-boomers, both of which are having profound effects on economic growth and on demands for Government resources. In 1996, for example, there were 2 babies born for every person that died. In 2014 there were 6 babies born for every 5 deaths. We are barely maintaining our numbers these days.
To put it another way, a woman on average would have to have 2.1 children in order to maintain current population levels. In 1950, the fertility rate was 3.43. Today, it's 1.75, and is expected to fall to 1.54 in 2020. Bermuda has had below-replacement fertility since the early 1970s. This is reflected in the increase in our median age from 26 in 1960 to 41 in 2010. It is projected to rise to 46 in 2020. A stagnating population will likely result in a stagnating economy.
And this is not just the OBA Government saying this. Different reports from the Department of Statistics have issued warnings about this coming crisis. Prominent community commentators such as Larry Burchall have been a voice of clarity on this issue for several years now. The SAGE Commission warned of the danger of our shrinking population, especially as it relates to falling Government revenue and increasing Government expenditure.
Most recently, the Finance Minister commissioned the services of an independent, international Fiscal Responsibility Panel. In their 2015 Annual Assessment for Bermuda, the panel warned of Bermuda's projected rapid population decline. In addition, they warned that Bermuda's population decline would be "very rapid by international standards". They specifically recommended a more liberal immigration policy.
Our new immigration policy will do the following:
Broaden Bermuda's tax base – this keeps our taxes low and keeps the level of public services that we enjoy.
Increase the number of persons paying health insurance in Bermuda. Policy holders subsidize Government insurance. This will protect HIP and FutureCare benefits, which our vulnerable residents rely on.
Broaden the number of people paying into Social Insurance and private pensions. The Contributory Pension Fund is underfunded by $2.07 billion. Without reversing our population trends, we will need to retire at a later age, pay more or receive less from our pensions.
Encourage long-term residents to spend their life savings in Bermuda by purchasing real estate, renovating their homes, investing in local companies, spending on local goods and services – all of which improves the economy, creates more jobs and increases Government revenue; and
Prevent Bermuda from losing out on the valuable skills, experience and expertise of long-term residents who have been fully integrated into our economy.
I also want to mention that this isn't simply a case of 'filling Bermuda with anyone who comes along' for the sake of increasing our population. The people we are talking about keeping are already here; and they're here because we needed them then and still need them now.
So far I have only made mention of the economic benefits of the Pathways initiative. There are also a number of social benefits.
First of all, many of these long-term residents are our friends, family members and work colleagues. Giving them the opportunity to stay here will protect the social networks that we and our children have in place.
Additionally, many long-term residents are heavily involved in philanthropic, sporting & leisure organizations, which in turn, contribute to positive improvements in the lives of many Bermudians.
Over the past few years as more and more expat workers left Bermuda to return to their homelands, charities have seen a drastic fall in valuable donor dollars; with many more charities now competing for fewer resources. Since non-Bermudians can work on a volunteer basis, charities depend on non-Bermudian spouses and children. These individuals are vital to the charitable sector's future.
Bermuda's immigration doctrine dates back, at the very least, to 1959 at the height of the baby-boomer generation. Back then, we needed to keep people out of Bermuda to protect the potential opportunities for our burgeoning population. Fast forward to today, the demographics have reversed, but the doctrine hasn't.
We need to update our immigration policy to better serve Bermudians today and tomorrow.
- Minister of Home Affairs Michael Fahy

20 Most Recent Opinion Columns

Opinion columns reflect the views of the writer, and not those of Bernews Ltd. To submit an Opinion Column/Letter to the Editor, please email info@bernews.com. Bernews welcomes submissions, and while there are no length restrictions, all columns must be signed by the writer's real name.
-

Read More About